Rare Large High-Wall C#4 Antique Lingam Singing Bowl
---
---
Antique Lingam Singing Bowl. C#4 (267Hz) Root Chakra
Weight 3 lb 12 oz. (1.70 kilos). Size 22.5 x 11 cm (approx. 8¾ x 4¼ inches)
Antique Lingam Singing Bowl. C#4 (267Hz) Root Chakra
Weight 3 lb 12 oz. (1.70 kilos). Size 22.5 x 11 cm (approx. 8¾ x 4¼ inches)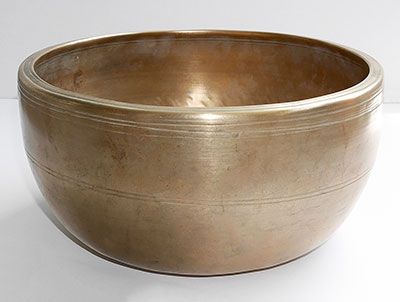 This is a large, heavy, and uncommon high-walled antique lingam bowl with a particularly graceful form. It has been very well forged and attractively embellished with a grooved lip, incised bands below the outer rim, and a pair of parallel lines encircling the midpoint between rim and base…the latter being a distinguishing feature of this bowl form.
The walls are smooth and thick, and the bottom flat. Inside there is a rounded lingam surrounded and defined by concentric circles, with another set of concentric circles beyond. It has a nice centrally placed navel underneath.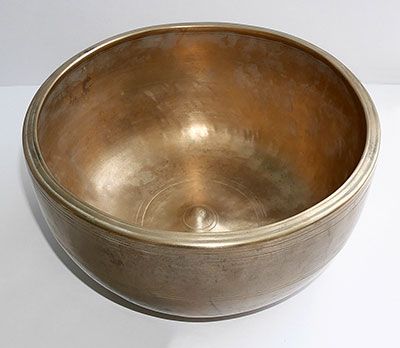 Inside the bowl, close to the rim, and also on the floor, there is evidence that this bowl originally featured a number of tiny pin-prick symbols and inscriptions, but these are so worn that they are now barely visible.
However, their presence suggests that this old bowl was once deemed special enough to be intricately inscribed by a former keeper. It is certainly a top quality and very substantial and impressive Lingam bowl, and its state of preservation is excellent.
The fundamental note is a good middle C# (267Hz) when struck with a padded mallet or played around the rim with a ringer. A Tibetan silk brocade bowl cushion, a padded striker and a ringer are all included in the price. The rim note changes to a powerful G5 (777Hz) if a wooden ringer is employed.
{audio}lingam1700c.mp3{/audio}
Listen: (3 struck notes and 2 played notes, suede then wood ringers)