Rare Large Superior Quality Antique Manipuri Singing Bowl – Suns & Ritual Gashes
---
---
Antique Manipuri Singing Bowl. Note: F4 (Heart Chakra)
Weight 1.28 kilos (2 lb 13 ¼ oz). Size 25 x 8 cm (9 ¾ x 3 ¼ inches)
Antique Manipuri Singing Bowl. Note: F4 (Heart Chakra)
Weight 1.28 kilos (2 lb 13 ¼ oz). Size 25 x 8 cm (9 ¾ x 3 ¼ inches)
This is an exceptionally rare large superior quality antique Manipuri Singing Bowl with a great voice and all the decorative feature one could wish for. The fundamental note is a forth octave F4 (345Hz) when struck or played around the rim.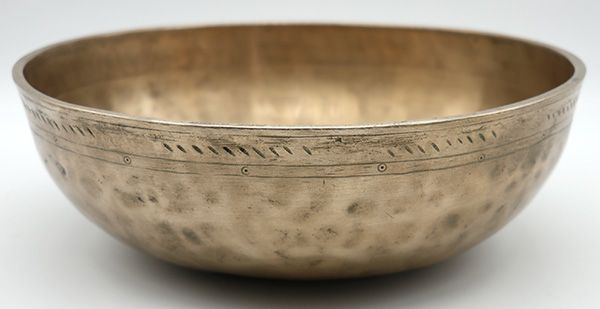 There are circles at its centre including a ring of suns (dots within circles), a chain of suns around the lip, and another band of suns set within incised parallel lines encircling the outer wall below the rim. Above these, at intervals, are a series of diagonal ritual gashes in groups of 9 to 14.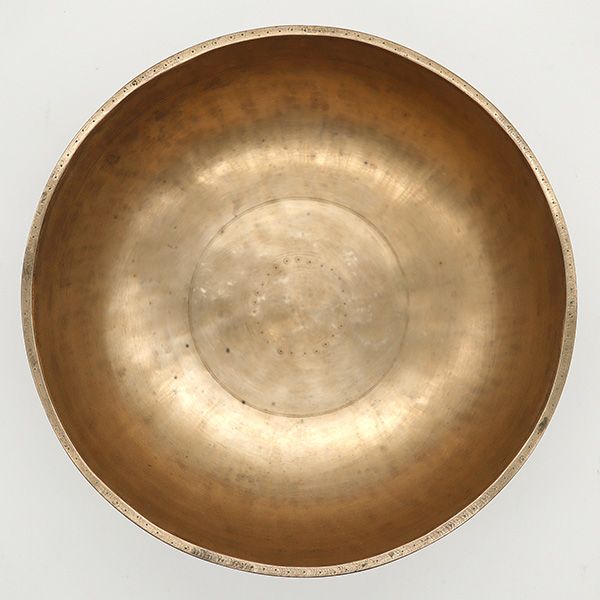 This interesting Manipuri bowl is in superb structural condition, clean and stain-free, with a shiny bright golden bronze colour.
Antique Manipuri singing bowls were once the most common of all the bowl forms but are now seldom found, and bowls of this size and quality are virtually unknown.
A Tibetan silk brocade cushion and a double-ended teak and suede ringer are included in the price.
Note: Audio clips coming soon.