Rare Medium Antique Lingam Singing Bowl – Eb4 – Inscription
---
---
Antique Lingam Singing Bowl. Notes: Eb4 & A5 (Solar Plexus & Third Eye Chakras)
Weight 537 grams (1 lb 3 oz). Size 15.5 x 7.5 cm (6 x 3 inches)
Antique Lingam Singing Bowl. Notes: Eb4 & A5 (Solar Plexus & Third Eye Chakras)
Weight 537 grams (1 lb 3 oz). Size 15.5 x 7.5 cm (6 x 3 inches)
This is a rare medium-size antique Lingam Singing Bowl in excellent structural and clean condition. It has a lovely curved form with a rounded bottom, a nice lingam at its centre surrounded by circles, and a matching yoni or navel underneath. It has a sheered and grooved lip and a wide decorative band around the outer rim bordered by lines and tiny dots.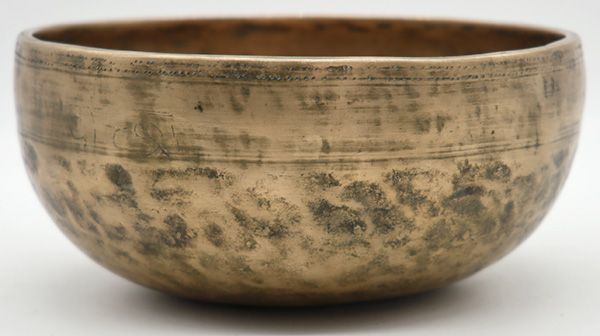 The decorative band contains a faint inscription, and has a smooth surface that contrasts nicely with the mottled hammered surface below.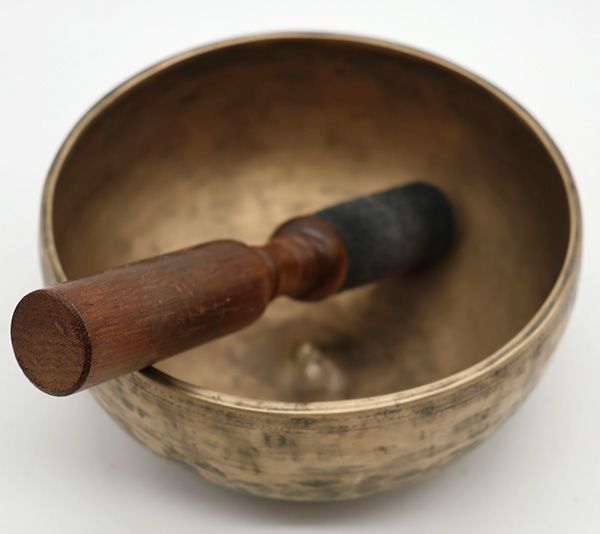 The fundamental note is a forth octave Eb4 (304Hz) when struck with a padded mallet or played around the rim with a suede ringer. The rim note changes to a near perfect pitch fifth octave A5 (886 – 880Hz) with a wooden ringer.
An attractive, interesting, and rare old bowl!
A Tibetan silk brocade bowl cushion, and a double-ended teak and suede ringer are included in the price.
{audio}lingam537.mp3{/audio}
Listen: (3 struck notes and 2 played notes, suede then wood ringer)