Rare Older Antique Lingam Singing Bowl – Lovely A4 Voice
---
---
Antique Lingam Singing Bowl. Notes Eb3 & A4 (Solar Plexus & Third Eye Chakras)
Weight 564 grams (1 lb 4 oz). Size 17.5 x 7 cm (7 x 2 ¾ inches)
Antique Lingam Singing Bowl. Notes Eb3 & A4 (Solar Plexus & Third Eye Chakras)
Weight 564 grams (1 lb 4 oz). Size 17.5 x 7 cm (7 x 2 ¾ inches)
This rare shallow Lingam Singing Bowl probably dates from the 18th century and has taken a few knocks in its long life, none of which appear to have impacted on its singing ability…it has one of the finest A3 voices I have come across in a long time! The struck note is a third octave Eb (159Hz) but it's the A4 rim note that is special. It's a very responsive bowl and easy to play too.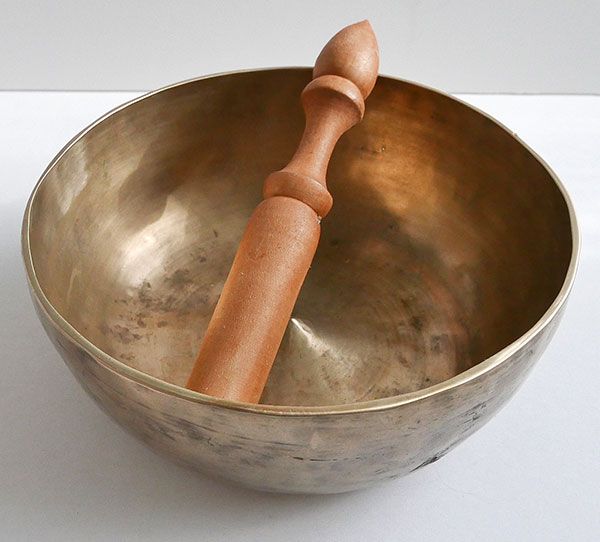 This is a shallow, flat-bottomed, and fine-walled antique bowl with a large lingam at its centre matched by a deep navel underneath. It's had a long life and there is surface evidence of knocks and bruises, and its decorative features have been worn away. However, it remains basically structurally sound and sings beautifully.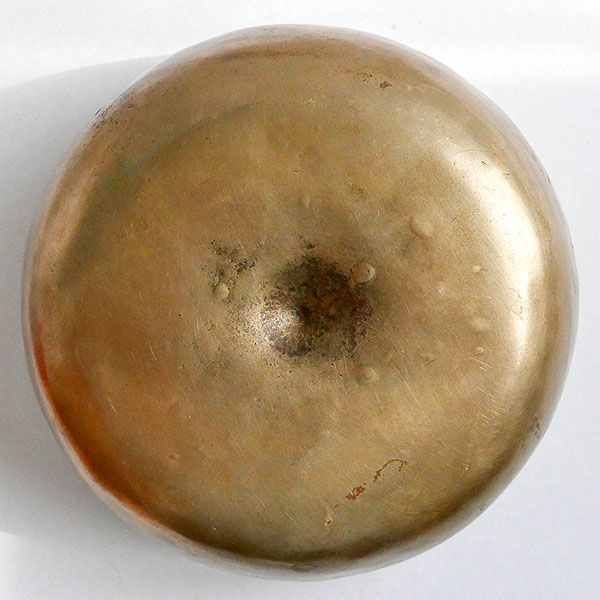 Of particular interest are the inclusions, mainly surrounding the navel. Inclusions are tiny blisters on the bowl's surface caused by the presence of dust and grit in the smelting pot when the bowl was forged.
A Tibetan silk brocade bowl cushion and a double-ended teak and suede ringer are included in the price.
Note: Audio clips coming soon.