Rare SET OF 6 Medium Size 4th Octave Antique Naga Singing and Healing Bowls
---
---
Antique Naga Singing Bowl Set. C#/E/F/F#/G/G#
Average Weight 555 grams (1 lb 3 oz). Average Diameter 13.25 cm (5 ¼ inches)
Antique Naga Singing Bowl Set. C#/E/F/F#/G/G#
Average Weight 555 grams (1 lb 3 oz). Average Diameter 13.25 cm (5 ¼ inches)
This is a rare set of 6 medium size antique Naga Singing and Healing Bowls. The set has been carefully matched by size, note and ease of play. Their fundamental notes are C#, E, F, F#, G and G#. Their struck notes and rim notes are respectively the same when played with a suede ringer, but second harmonics are possible if a wooden ringer is employed. They are all middle (4th) octave bowls. The first note given below is the fundamental and the primary note you will hear when the bowl is struck or played. The second note is the harmonic.
C#4 (273Hz) & F5, E4 (338Hz) & G#5, F4 (351Hz) & A6
F#4 (373Hz) & B5, G4 (392Hz) & C6, G#4 (405Hz) & C6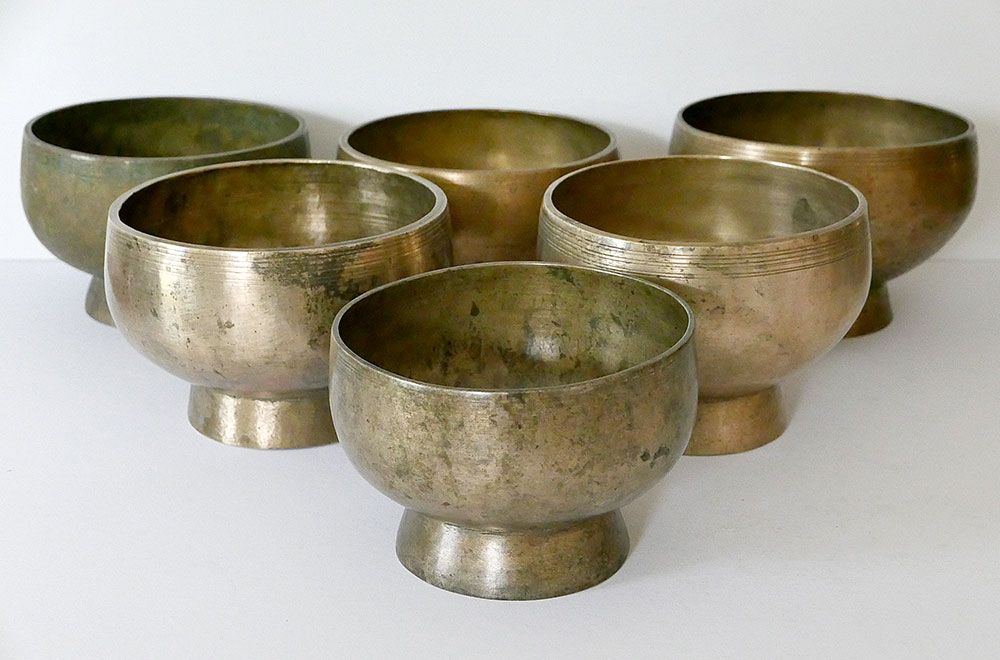 All 6 Naga bowls are responsive and easy to play. The E#4 bowl has an inscription. They are in excellent structural condition, and will be supplied with a ringer each.
This is a rare opportunity to acquire a set of 6 matched antique Naga bowls each having a different note. The missing notes on the chromatic will be listed later as matching bowls become available.