RARE SET OF 8 SMALL TO MEDIUM 4th OCTAVE ANTIQUE LINGAM BOWLS
---
---
RARE SET OF 8 SMALL TO MEDIUM 4th OCTAVE ANTIQUE LINGAM BOWLS
Notes C4, D4, Eb4, E4, F4, F#4, G4, Bb4 and B4
RARE SET OF 8 SMALL TO MEDIUM 4th OCTAVE ANTIQUE LINGAM BOWLS
Notes C4, D4, Eb4, E4, F4, F#4, G4, Bb4 and B4
This is a rare 4th Octave set of 9 antique Lingam Singing and Healing Bowls. Their notes are C4, D4, Eb4, E4, F4, F#4, G4 and Bb4. The four missing notes for a complete chromatic chakra set of 12 are B4, C#4, G#4 and A4 all of which may become available in time.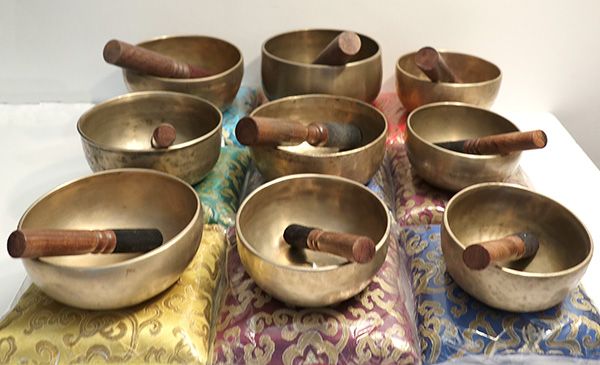 Their diameters range between 4 ¾ and 5 ¾ inches and they have been carefully matched as far as possible by age, condition, shape, octave and pitch. The bowls have been tuned to the struck fundamental, although in most cases the played rim note is the same.
All are in excellent structural condition. Each bowl is supplied with its own cushion and ringer.
Bowl 1. C4 note (262Hz), 5 ¾ inches, 488 grams, concert pitch.
Bowl 2. D4 note (296Hz), 5 ¼ inches, 453 grams.
Bowl 3. Eb4 note (314Hz), 5 ¼ inches, 411 grams.
Bowl 4. E4 note (324Hz), 5 ½ inches, 546 grams, inscribed.
Bowl 5. F4 note (343Hz), 5 ½ inches, 573 grams.
Bowl 6. F#4 note (370Hz), 4 ¾ inches, 280 grams.
Bowl 7. G4 note (384Hz), 5 inches, 306 grams.
Bowl 8. Bb4 note (454Hz), 4 ¾ inches, 319 grams.