Rare Shallow Antique Singing Bowl – F#4 (376Hz) with Inscription
---
---
Antique Singing Bowl. Notes F#4 (376Hz) & C#6 (1093Hz) Heart & Crown Chakras)
Weight 595 grams (1 lb 5 oz). Size 17 x 6.5 cm (6 ¾ x 2 ½ inches)
Antique Singing Bowl. Notes F#4 (376Hz) & C#6 (1093Hz) Heart & Crown Chakras)
Weight 595 grams (1 lb 5 oz). Size 17 x 6.5 cm (6 ¾ x 2 ½ inches)
This unusually shallow Singing Bowl dates from the 19th century and comes in its 'as found' condition; basically clean but with the patina of age and long use, which I find attractive. Unlike myself, I like my singing bowls to look their age!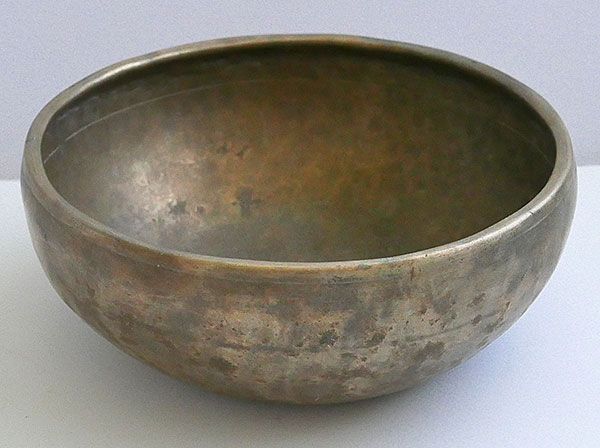 This well-forged medium-size bowl has a graceful shape and a low profile. Decorative features include a line a little below the inside rim, a line encircling the outer rim, and another about a third of the way down the wall. It also benefits from a small but nice inscription, a fair indication of the high esteem in which this bowl was held be a former keeper.
The fundamental note is a middle F# (376Hz) when struck with a padded mallet or played around the rim with a suede ringer. The rim note changes to a very nice high sixth octave C (1093Hz) when played with a wooden ringer.
It shows some signs of wear but is in good structural condition, and feels very nice to the touch!
A Tibetan silk brocade bowl cushion and a ringer are included in the price.
Note: Audio clips coming soon.