Rare Small Antique Lingam Singing Bowl – D5 (595Hz)
---
---
Antique Lingam Singing Bowl – D5 (595Hz) Sacral Chakra
Weight 427 grams (0 lb 15 oz) Size 5 x 2¼ inches (12.5 x 6 cm)
Antique Lingam Singing Bowl – D5 (595Hz) Sacral Chakra
Weight 427 grams (0 lb 15 oz) Size 5 x 2¼ inches (12.5 x 6 cm)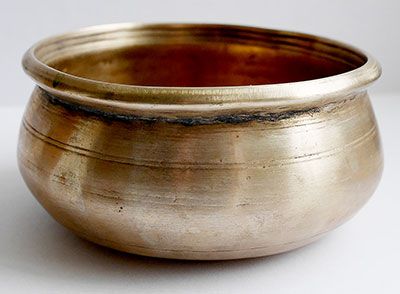 This little Lingam Singing Bowl has a particularly unusual shape and a generous and interesting downward-sloping lip that also features multiple decorative incised lines around the inner rim.
There is an excellent pointed lingam at its centre, surrounded by concentric circles, and a subtle naval underneath. The outer wall has decorative lines encircling it at intervals, although these have been partially worn down over the years.
The fundamental note is a fifth octave D whether struck or played around the rim. A Tibetan silk brocade bowl cushion and a ringer are both included in the price.
This attractive antique bowl shows signs of use but is in good clean condition for its age, with just a few minor surface blemishes.
Note: Audio clips coming soon.