Rare Small Antique Mani Singing Bowl – Powerful C#6 (1086Hz)
---
---
Antique Mani Singing Bowl. Note C#6 (1086Hz) Root Chakra
Weight 584 grams (1 lb 4 ½ oz). Size 12 x 6.5 cm (4 ¾ x 2 ½ inches)
Antique Mani Singing Bowl. Note C#6 (1086Hz) Root Chakra
Weight 584 grams (1 lb 4 ½ oz). Size 12 x 6.5 cm (4 ¾ x 2 ½ inches)
This is a rare small Antique Mani Singing bowl with a very high and extremely powerful sixth octave C# (1086Hz) fundamental when struck or played around the rim with a wooden ringer. It is a responsive bowl and unlike some it's easy to play around the rim.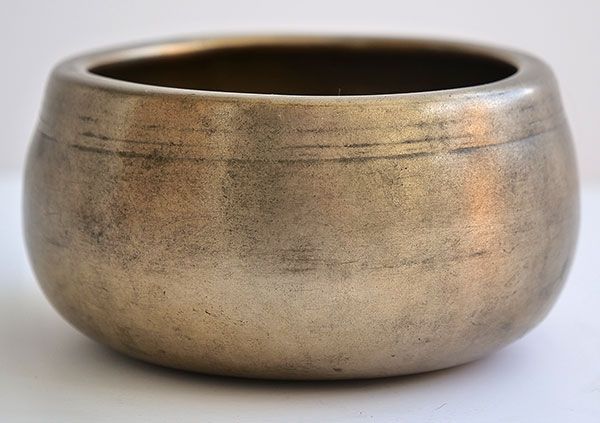 It has all the typical characteristics of this ancient bowl form…flat bottom, bulbous tapering walls, wide inward-facing grooved lip, circles at its centre including an 'eye', and decorative bands forming a collar around the outer rim. This bowl has seen a lot of use over the but it remains structurally sound, with most of its features well defined. A nice example of this ancient bowl form!
Antique Mani bowls are generally thought to be between 200 and 400 years old and are now extremely rare.
A Tibetan silk brocade bowl cushion and a ringer are included in the price.
Note: Audio clips coming soon.