Rare Superior Quality Antique Lingam Singing Bowl – Perfect Pitch D4 (293Hz)
---
---
Antique Lingam Singing Bowl. Note: D4 (Sacral Chakra)
Weight 864 grams (1 lb 14 ½ oz). Size 17 x 8 cm (6 ¾ x 3 ¼ inches)
Antique Lingam Singing Bowl. Note: D4 (Sacral Chakra)
Weight 864 grams (1 lb 14 ½ oz). Size 17 x 8 cm (6 ¾ x 3 ¼ inches)
This is a superior quality medium size Antique Lingam Singing Bowl with relatively thick walls and a grooved lip. There is a neat lingam surrounded by circles at its centre, and a matching navel or yoni underneath. The outer rim is encircled by two decorative rows of tiny dots, and a pair of incised lines encircle the belly.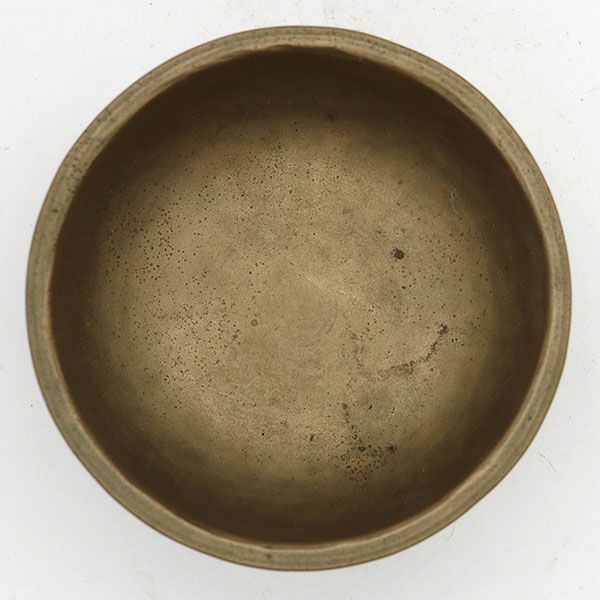 The fundamental note is an excellent perfect pitch middle octave D4 (293Hz) when struck with a padded mallet or played around the rim with a suede or wooden ringer. The rim note changes to a fifth octave G#5 (842-9Hz) with a wooden ringer. It is a responsive bowl and easy to play.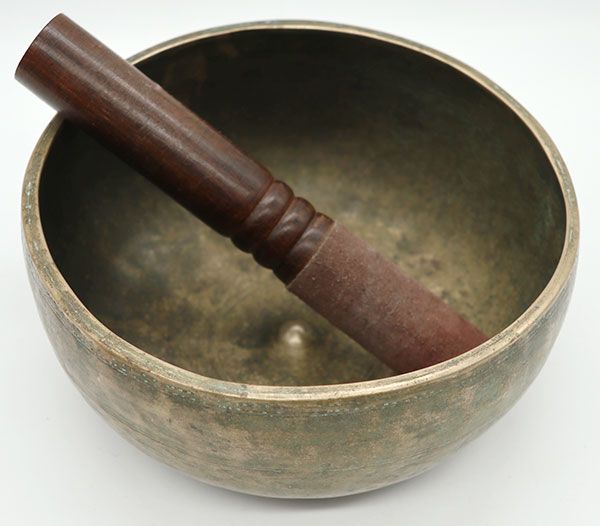 This is in many ways the archetypal Lingam bowl in size, form and voice, and would make an excellent choice for someone wishing to add a first Lingam to their collection. It is believed to date from the early to mid 1800 and is structurally sound and free of blemishes. It has a deep semi-matt bronze colour and a fabulous aged patina.
A Tibetan silk brocade bowl cushion and a double-ended teak and suede ringer are included in the price.
{audio}lingam864d4.mp3{/audio}
Listen: (3 struck notes and 2 played notes, suede then wood ringer)