Rare Tiny Antique Singing Bowl – D4 (289Hz) & Multi-Harmonic
---
---
Antique Singing Bowl. Note D4 (Sacral Chakra)
Weight 267 grams (0 lb 9 ½ oz). Size 12 x 5.5 cm (4 ¾ x 2 ¼ inches)
Antique Singing Bowl. Note D4 (Sacral Chakra)
Weight 267 grams (0 lb 9 ½ oz). Size 12 x 5.5 cm (4 ¾ x 2 ¼ inches)
This tiny antique singing bowl has a very pretty shape with fine walls and an unusual disc-like base. It has a bright golden bronze colour and is structurally sound and clean.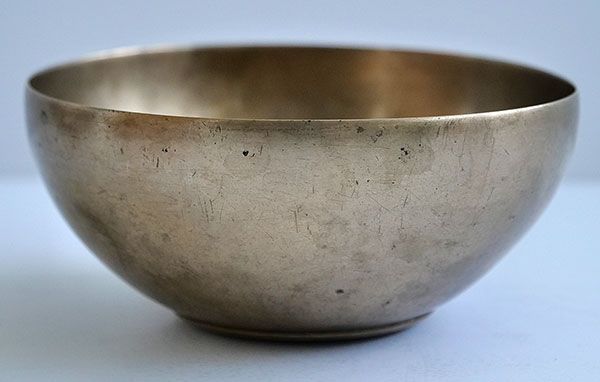 The fundamental note is a middle D (289Hz when struck or played around the rim with a suede ringer, but it's a mult-harmonic bowl and a wooden ringer will bring out three more voices…F#5 (723Hz), E6 (1333Hz) and C7 (2087Hz).
A Tibetan brocade mat and 2 small ringers are included in the price.
Note: Audio clips coming soon.