Rare Tiny Antique Singing Bowl – F#5 (747Hz)
---
---
Antique Singing Bowl. Note F#5 (Heart Chakra)
Weight 259 grams (0 lb 9 oz). Size 10 x 6 cm (4 x 2 ¼ inches)
Antique Singing Bowl. Note F#5 (Heart Chakra)
Weight 259 grams (0 lb 9 oz). Size 10 x 6 cm (4 x 2 ¼ inches)
This tiny antique singing bowl must have been quite difficult to forge with its unusual shape and fine hand-beaten wall. There are decorative circles at its centre, and several sets of ritual gashes around the outer rim.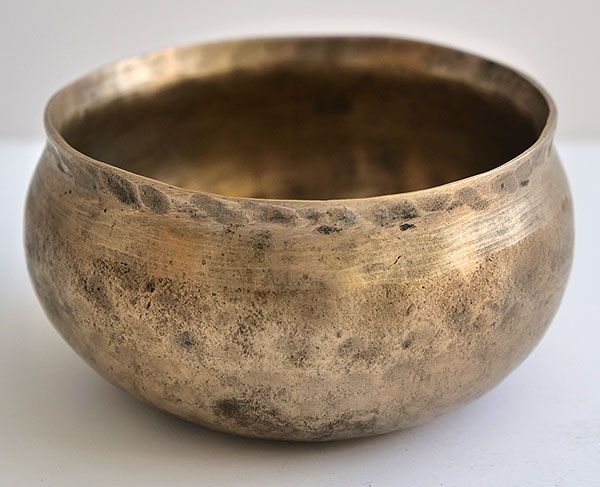 The fundamental note is a fifth octave F# (747Hz) when struck or played around the rim with a hard wooden ringer, and it has a fifth octave G (775Hz) harmonic.
The bowl nests nicely in the palm. Playing around the rim requires a delicate touch, and the bowl is best struck.
My instinct tells me that although this is an authentic singing bowl it might have served some ritual or ceremonial purpose as a container. It is in excellent and clean condition, with the feel of antiquity.
A lovely Tibetan brocade zipped bowl case, a bowl mat, and a small ringer are all included in the price.
Note: Audio clips coming soon.