Rare Ultra-Fine Bell-Shaped Antique Lingam Singing Bowl – G3 & High C6
---
---
Antique Lingam Singing Bowl. Notes: G3 & C6 (Throat & Root Chakras)
Weight 531 grams (1 lb 2 ¾ oz). Size 15 x 8.5 cm (5 ¾ x 3 ¼ inches)
Antique Lingam Singing Bowl. Notes: G3 & C6 (Throat & Root Chakras)
Weight 531 grams (1 lb 2 ¾ oz). Size 15 x 8.5 cm (5 ¾ x 3 ¼ inches)
This is a really rare and special Antique Lingam Singing Bowl with ultra-fine walls and a lovely bell-like form. The walls are clean and sensually smooth, and it sits comfortably in the palm of the hand for playing.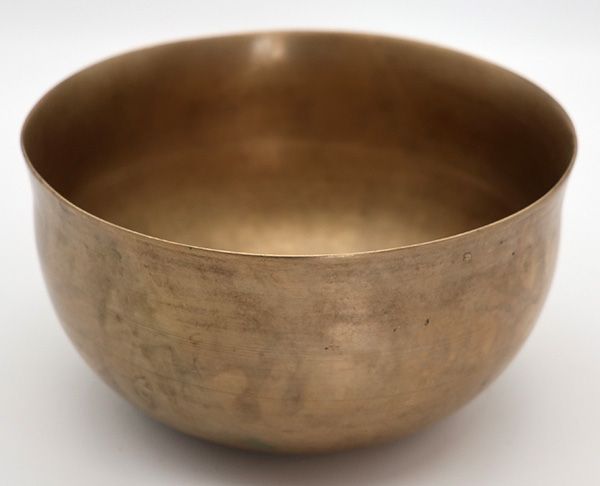 There is a perfect lingam at its centre surrounded by pairs of concentric circles that repeat at spaced intervals up the inner wall. There is a neat matching navel or yoni underneath and some fine lines around the belly.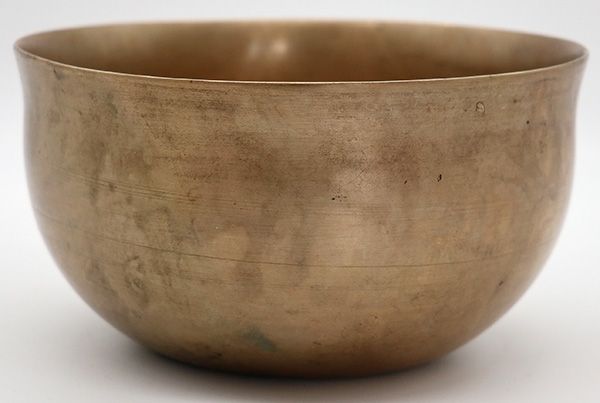 The fundamental note is a third octave G (196Hz) when struck with a padded mallet or played around the rim with a suede ringer, and an exceptionally high sixth octave C (1031Hz) when played with a wooden ringer. Unusually, it also has some talking ability when played with a little water inside.
A rare and beautiful bowl in superb condition!
A Tibetan silk brocade bowl cushion and a double-ended teak and suede ringer are included in the price.
{audio}lingam531.mp3{/audio}
Listen: (3 struck notes and 2 played notes, suede ringer then wood)