Rare Unique Antique Lingam Singing Bowl – G#4 & C#6 – Inscription
---
---
Antique Lingam Singing Bowl. Notes G#4 & C#6 (Throat & Root Chakras)
Weight 349 grams (0 lb 12 ½ oz). Size 14 x 5 cm (5 ½ x 2 inches)
Antique Lingam Singing Bowl. Notes G#4 & C#6 (Throat & Root Chakras)
Weight 349 grams (0 lb 12 ½ oz). Size 14 x 5 cm (5 ½ x 2 inches)
This small shallow antique Lingam Singing Bowl is simply unique, the first I have seen of its kind in 30 years of collecting. It is particularly well made with lots of fine detail outside and in. The struck note is a concert pitch middle G# (416Hz) with a high sixth octave C# (1093Hz) harmonic, which is also the rim note when played with a wooden ringer.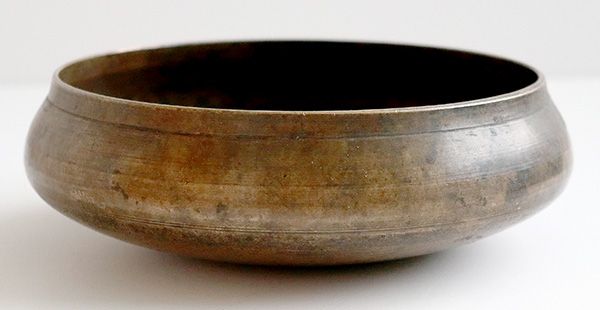 At its centre is a well-defined raised button lingam with an indentation in the middle. It is surrounded by three sets of concentric circles at intervals across the floor. And underneath there is a pronounced navel with a raised centre, and a small engraved inscription. The entire surface of the outer wall, from the rim to the navel, is decorated with concentric circles.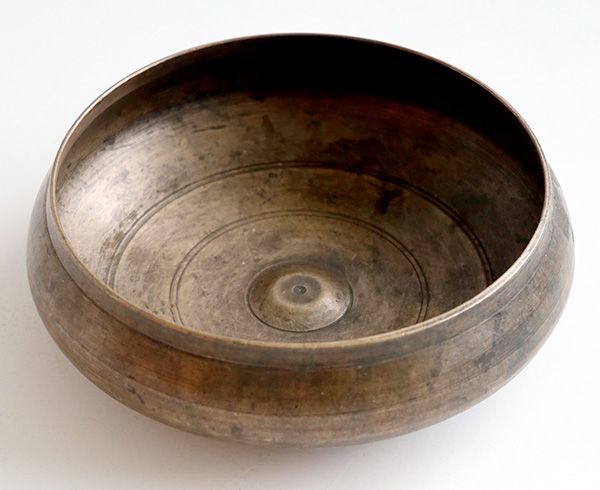 This lovely little Lingam bowl is in superb structural condition, and has an antique bronze colour with some aged patina. A Tibetan silk brocade bowl mat and a ringer are included in the price.
Unique, very collectable and hard to part with, hence the price!
Note: Audio clips coming soon.