Rare Yoni Lingam Ceremonial Vessel for Holy Water (17th – 18th Century)
---
---
Rare Copper Antique Yoni/Shiva Lingam Ceremonial Vessel for Holy Water
L12¼ x W5¾ x H3 inches (31 x 15 x 7.5 cm). Weight 0.69 kilos (1 lb 8½ oz)
Rare Copper Antique Yoni/Shiva Lingam Ceremonial Vessel for Holy Water
L12¼ x W5¾ x H3 inches (31 x 15 x 7.5 cm). Weight 0.69 kilos (1 lb 8½ oz)
This extremely rare Yoni-Lingam Ceremonial Vessel was sourced in Nepal but probably has its origins in the Indian Himalayas.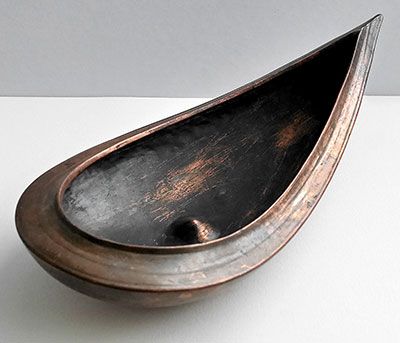 This ancient tear-shaped object has been beautifully forged from hand-beaten copper, and features a centrally placed pointed lingam set within the bowl, with a matching navel underneath. It sits gracefully on the circular base of the navel…all else being raised above the surface. It's a truly sensual and beautiful form!
This particular specimen is very well made and quite large. It is in excellent condition for its age; without dents, splits or obvious signs of wear. However, it has clearly been used over the centuries, and has a patina commensurate with its age.
The Yoni (vulva) is the symbol of the Hindu Goddess Shakti, while the male counterpart is the God Shiva's Lingam (phallus). Their union represents the eternal process of creation and regeneration. Normally holy water is poured from the Yoni over a Shiva Lingam during a Puja or prayer ceremony, but in this case the Yoni and Lingam are combined within the same vessel.
Although this is not a singing bowl it is another sacred object with a connection to the region, and I have no doubt it will be of considerable interest to collectors of rare Himalayan ritual and ceremonial antiquities. I have others in my private collection should you be interested.
Note: A rare Yoni Ritual Pourer (without the Lingam) of similar size can be seen here.