Recently Sourced Rare G#4 Lingam in 'As Found' Condition
---
---
Antique Lingam Singing Bowl. G#4 (414Hz) Throat Chakra
Weight 2 lb 5 oz. (1.05 kilos). Size 16.5 x 8 cm (approx. 6½ x 3¼ inches)
Antique Lingam Singing Bowl. G#4 (414Hz) Throat Chakra
Weight 2 lb 5 oz. (1.05 kilos). Size 16.5 x 8 cm (approx. 6½ x 3¼ inches)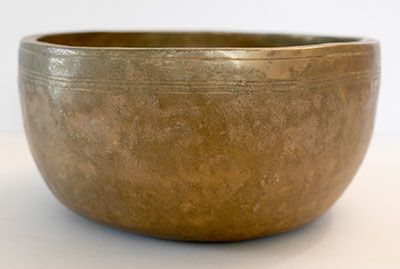 This is one of several rare and ancient Lingam bowls that was sourced on our behalf in the Himalayas earlier this year. It is shown in its 'as found' condition…a little grubby but otherwise in an excellent state of preservation. It could certainly be cleaned if required, but not by us, as we like the authentic surface patina acquired over time.
This ancient bowl dates from the 18th century and has an excellent middle octave G# voice (412-414Hz) when struck with a padded mallet or played around the rim with a ringer. It has the characteristic Lingam sound and is extremely responsive and easy to play.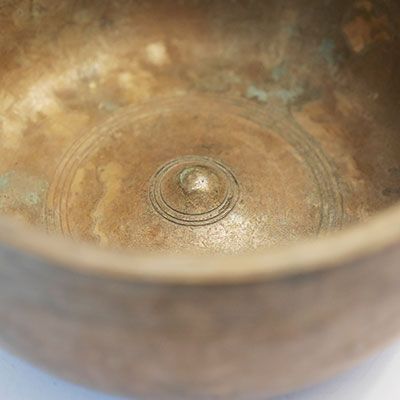 This bowl has been beautifully forged in the Thadobati style with a gently curved wall, a flat bottom, and a thick grooved lip. There is an excellent well-defined mounded and pointed lingam at its centre surrounded by concentric circles, and a deep matching naval underneath. There are several decorative bands forming a collar around the outer rim.
This ancient Lingam bowl is in excellent structural condition, and looks and feels its age. A Tibetan silk brocade bowl cushion and ringer are included in the price.
{audio}lingam1050gs4.mp3{/audio}
Listen: (3 struck notes and 1 played note)