Small 8 ¼ " Antique Jambati Singing Bowl – C#3 & C#4 – Reduced
---
---
Antique Jambati Singing Bowl. Notes: C#3 & C#4 (Root Chakra)
Weight 2 lb 2 ¾ oz. (983 grams). Size 21 x 10 cm (8 ¼ x 4 inches)
Antique Jambati Singing Bowl. Notes: C#3 & C#4 (Root Chakra)
Weight 2 lb 2 ¾ oz. (983 grams). Size 21 x 10 cm (8 ¼ x 4 inches)
This small Antique Jambati Singing Bowl has very fine and even hand-beaten walls and is of a size and weight that makes it comfortable to hold and play for an extended period. It's an older bowl and any decorative features it might once have possessed have been worn away with use over its lifetime.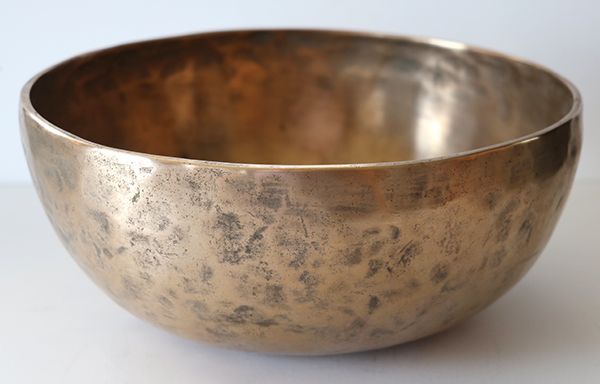 The fundamental note is a third octave C# (140Hz) when struck with a padded mallet or played around the rim with a suede ringer. The rim not changes to a middle C#4 (419Hz) if a wooden ringer is used.
This antique Jambati singing bowl is in excellent structural condition and clean, but with some light copper oxidization inside. There is a very tiny nick on the inside of the rim which has no impact on the sound as the playing edge is perfect. However I have reduced the price to reflect this slight imperfection.
A Tibetan silk brocade bowl cushion, a padded striker and a ringer are all included in the price.
{audio}jambati983cs3.mp3{/audio}
Listen: (3 struck notes and 2 played notes, suede ringer then wood)