Small and Pretty Antique Thadobati Singing Bowl – A4 (444Hz)
---
---
Antique Thadobati Singing Bowl. A4 (444Hz) Third Eye Chakra)
Weight 0 lb 12 ½ oz. (357g). Size 12.5 x 6 cm (approx. 5 x 2¼ inches)
Antique Thadobati Singing Bowl. A4 (444Hz) Third Eye Chakra)
Weight 0 lb 12 ½ oz. (357g). Size 12.5 x 6 cm (approx. 5 x 2¼ inches)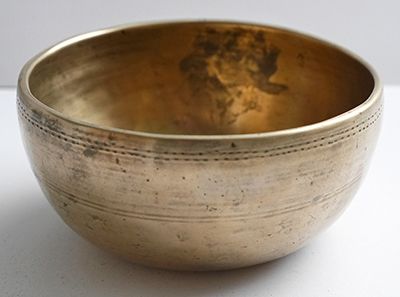 A small and rather pretty antique Thadobati Singing Bowl with a nice middle octave A fundamental (444Hz). It has smooth walls, a grooved lip, circles at the centre, and a pair of incised lines around the middle of the outer wall. Two rows of small punched dots form a decorative collar below the rim. This bowl fits comfortably in the palm of the hand and it feels nice to hold and play.
The condition of this bowl is good. It has a nice golden colour and is clean inside and out with the exception of an old stain high up on the inside wall. A double ended teak and suede ringer is included in the price.
Note: Audio clips coming soon.