Small Antique Button Lingam Singing Bowl – Bb5 (958Hz)
---
---
Antique Lingam Singing Bowl. Bb5 (958Hz) Crown Chakra
Weight 1 lb 0 ¼ oz (461 grams). 15 x 4 cm (approx. 6 x 1 ½ inches)
Antique Lingam Singing Bowl. Bb5 (958Hz) Crown Chakra
Weight 1 lb 0 ¼ oz (461 grams). 15 x 4 cm (approx. 6 x 1 ½ inches)
This rare small antique Lingam Singing Bowl has an interesting 5th octave Bb struck note (958Hz), and a middle octave F (347Hz) when played around the rim with a wooden ringer; the latter requiring some patience and practice to make it sing sweetly.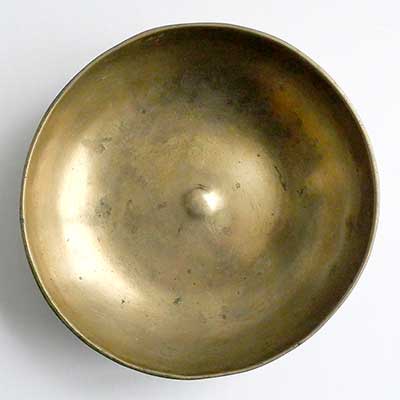 This bowl is believed to date from the 18th century. It has fine walls, a button lingam at its centre, and a neat navel underneath. There is an interesting decorative border of tiny ritualistic cuts or gashes below the outer rim. Its shallow form is of a type associated with shamanic practices, and its primary function may have been as a vessel for herbal preparations and mandala display rather than sound.
It is in excellent condition, with a fabulous patina to the outer wall, and has the look and feel of antiquity and purpose. A ringer is included in the price.
Note: Audio clips coming soon.