Small-Medium Antique Jambati Singing Bowl – B2/C3 (126Hz) Inscription
---
---
Antique Jambati Singing Bowl. B2/C3 & F#4 (Crown/Root & Heart Chakras)
Weight 2 lb 13½ oz (1.29 kilos). Size 22.5 x 11 cm (approx. 8¾ x 4¼ inches)
Antique Jambati Singing Bowl. B2/C3 & F#4 (Crown/Root & Heart Chakras)
Weight 2 lb 13½ oz (1.29 kilos). Size 22.5 x 11 cm (approx. 8¾ x 4¼ inches)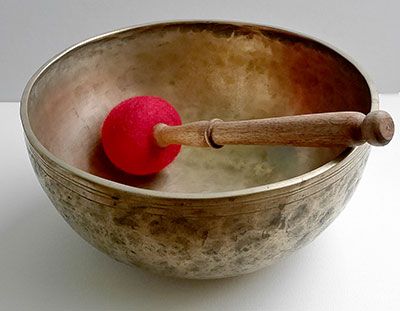 Small to medium Jambati Singing Bowls with diameters around 9 inches such as this are much in demand as they are easier to hold and play than the larger and heavier Jambati whilst still being capable of producing the lower notes that are common to this bowl form.
This particular bowl has a low fundamental voice with a frequency of 126Hz that is midway between a low second octave B and a third octave C. The note is the same whether struck with a padded mallet or played around the rim with a suede or wooden ringer, but the rim note will also develop into a middle F# (376Hz) if desired.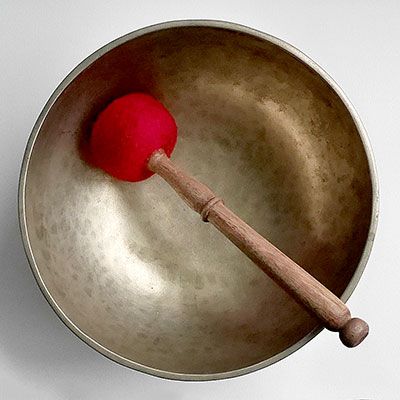 This bowl benefits from a small engraved inscription on its outer wall.
This is a good quality and nicely proportioned antique bowl in excellent condition.
A Tibetan silk brocade bowl cushion, a small padded striker, and a ringer are all included in the price.
Note: Audio clips coming soon.