Small Antique Manipuri Singing Bowl – Perfect Pitch F5 (699Hz)
---
---
Antique Manipuri Singing Bowl. F5 (699Hz) Heart Chakra
Weight 417 grams. (0 lb 14 ¾ oz). Size 16 x 5.5 cm (6 ¼ x 2 ¼ inches)
Antique Manipuri Singing Bowl. F5 (699Hz) Heart Chakra
Weight 417 grams. (0 lb 14 ¾ oz). Size 16 x 5.5 cm (6 ¼ x 2 ¼ inches)
This is a small antique Manipuri Singing Bowl with a perfect concert pitch 5th octave F fundamental (699Hz) when struck or played with a ringer.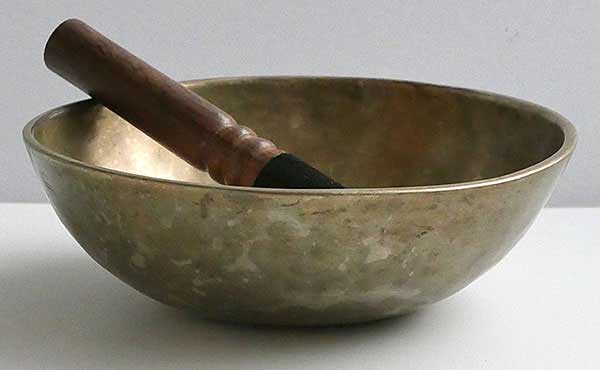 This well forged old bowl sits comfortably in the palm of the hand and is a delight to hold and play. It's a pretty bowl too, with smooth walls and circles at its centre. It is in excellent structural condition, clean and blemish free. A very nice example of this increasingly rare bowl form.
A Tibetan silk brocade bowl cushion and a ringer are included in the price.
Note: Audio clips coming soon.