Small Antique Naga Singing Bowl – Powerful Voice & Cobra Inscription
---
---
Antique Naga Singing & Healing Bowl. F5 & Bb6 Notes (Heart & Crown Chakras)
Weight 0 lb 14¼ oz (0.40 kilos). Size 10.5 x 6.5 cm (approx. 4¼ x 2½ inches)
Antique Naga Singing & Healing Bowl. F5 & Bb6 Notes (Heart & Crown Chakras)
Weight 0 lb 14¼ oz (0.40 kilos). Size 10.5 x 6.5 cm (approx. 4¼ x 2½ inches)
This small antique Naga Singing and Healing Bowl has a nice fifth octave F voice (682Hz) when struck but an incredible sixth octave Bb (1815Hz) when played around the rim with a wooden ringer. This rim note is unbelievably powerful and penetrating…and would easily reach the four corners of a huge auditorium! A double-ended teak and suede ringer is included in the price.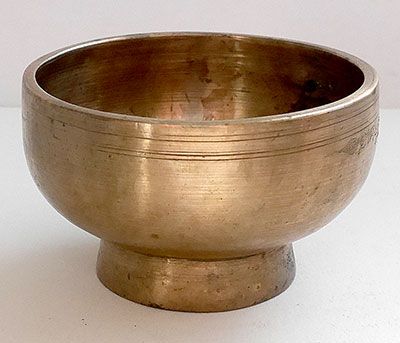 This Naga bowl is solidly constructed and quite weighty for its size, and it has thick walls and typical decorative banding below the outer rim. It is structurally very sound, and basically clean but with some light stains here and there.
This bowl benefits from a long and neat dot-punched inscription with a small drawn cobra at either end. It's quite rare to find a small bowl with an inscription, and I have not previously seen a cobra depicted on a Naga bowl.
{audio}naga040f5.mp3{/audio}
Listen: (3 struck notes and 1 played note)