Small Antique Thadobati Singing Bowl – Extra Thick & Multi-Harmonic
---
---
Antique Thadobati Singing. A4/Bb4/Eb6 (Third Eye & Crown Chakras)
Weight 693 grams (1 lb 8 ¼ oz). Size 14.5 x 7 cm (approx. 5 ¾ x 2 ¾ inches)
Antique Thadobati Singing. A4/Bb4/Eb6 (Third Eye & Crown Chakras)
Weight 693 grams (1 lb 8 ¼ oz). Size 14.5 x 7 cm (approx. 5 ¾ x 2 ¾ inches)
This small antique Thadobati Singing Bowl has extra thick walls and is therefore heavy for its size, and would have been quite hard to forge. This is evidenced by its slightly uneven and lumpy wall.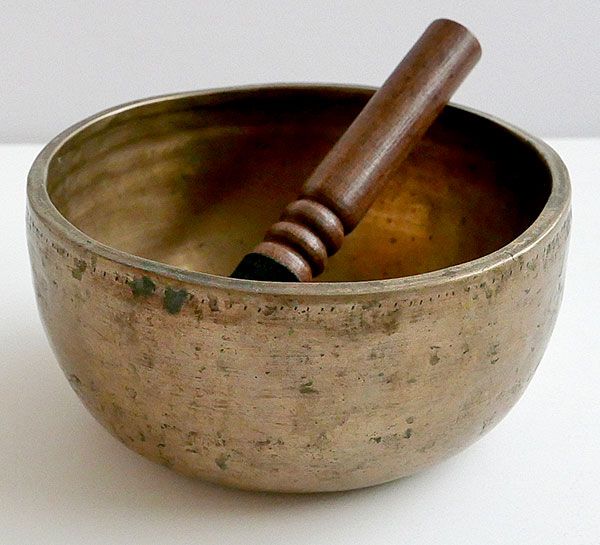 This is an older Thadobati with a grooved lip, well-defined circles at its centre, and a band of tiny cuts around the outer rim.
The struck note is a middle A (448Hz) while the rim note varies from A4 to Bb4 (458Hz) and even Eb6 (1260Hz).
A Tibetan silk brocade bowl cushion and a ringer are included in the price.
Note: Audio clips coming soon.