Small Interesting and Characterful Antique Singing Bowl – F4 (352Hz)
---
---
Antique Singing Bowl. Note B4 – Crown Chakra
Weight 369 grams (13 oz). Size 14.5 x 6 cm (5 3/4 x 2 1/2 inches)
Antique Singing Bowl. Note B4 – Crown Chakra
Weight 369 grams (13 oz). Size 14.5 x 6 cm (5 3/4 x 2 1/2 inches)
This interesting little bowl has bags of character with its scooped neck and pronounced shoulder. It has an unusual downward sloping grooved lip, and a pair of incised lines encircling its middle. There are well-defined circles at its centre, and decorative bands below the inner rim. All things considered a lot of work went into the forging of this little bowl.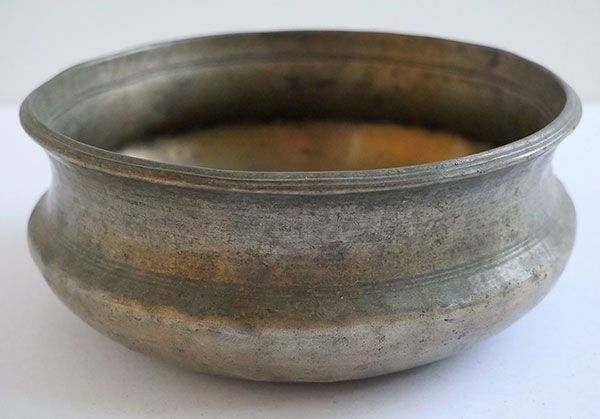 It's a pity therefore, that I struggle to make it sing sweetly, despite it having a decent middle F (352Hz) struck note and numerous subtle harmonics. Perhaps some experimentation with different ringers and a little more perseverance is called for! It is structurally sound and basically clean.
A Tibetan silk brocade bowl cushion and a three different ringers are included in the price.
Note: Audio clips coming soon.