Small Superior Quality 8" Antique Jambati Singing Bowl – E3/F3 & C5
---
---
Antique Jambati Singing Bowl. E3/F3 (Solar Plexus & Heart Chakras)
Weight 748 grams (1lb 10 ½ oz). Size 20 x 9 cm (approx. 8 x 3 ½ inches)
Antique Jambati Singing Bowl. E3/F3 (Solar Plexus & Heart Chakras)
Weight 748 grams (1lb 10 ½ oz). Size 20 x 9 cm (approx. 8 x 3 ½ inches)
This is a small superior quality antique Jambati Singing Bowl with walls so fine and smooth it's hard to believe they were hammered into shape.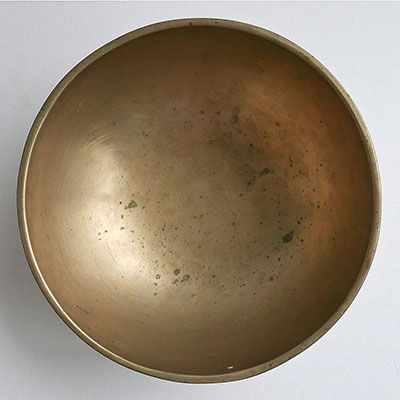 The fundamental note fluctuates between E3 and F3 as it comes at the midpoint between the two (167Hz to 171Hz), but it is possible to bring one or the other out. The struck note tends to be F while the played note tends to be E with a suede ringer. If a wooden ringer is used the rim note changes to a fifth octave C (524Hz) that is concert pitch.
This bowl has a lovely golden antique bronze colour and is clean and virtually free of stains and blemishes. A small, old, stable crack in the wall has no impact on the sound quality, but accounts for the discount on this otherwise beautiful Jambati bowl.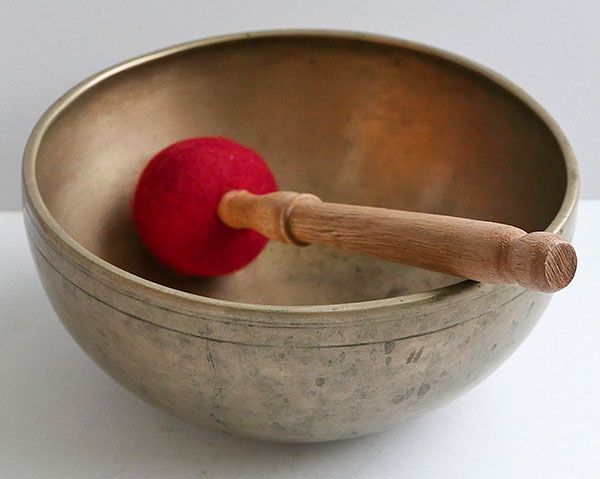 A Tibetan silk brocade bowl cushion, a padded striker and a ringer are all included in the price.
{audio}jambati748e3.mp3{/audio}
Listen: (3 struck notes and 2 played notes, suede then wood ringer)