Small Superior Quality Extra-Thick 19th Century Lingam Singing Bowl – Powerful F#5
---
---
Antique Lingam Singing Bowl. Note: F#5 (Heart Chakra)
Weight 571 grams (1 lb 2 ¼ oz). Size 12.5 x 5 cm (5 x 2 inches)
Antique Lingam Singing Bowl. Note: F#5 (Heart Chakra)
Weight 571 grams (1 lb 2 ¼ oz). Size 12.5 x 5 cm (5 x 2 inches)
This is one of the nicest small bowls in my collection, and if I were keeping just one example of a small superior quality 19th century lingam this might well be it.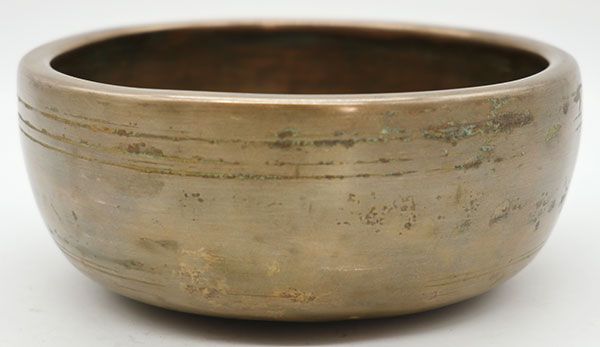 It has a powerful fifth octave F#5 fundamental when struck (747Hz) or played around the rim (752Hz) with a wooden ringer.
It has been expertly crafted with an extra-thick wall and lip, a flat bottom, a fabulous lingam surrounded and defined by boldly incised circles, with a deep matching navel or yoni underneath. There are decorative bands around the outer rim and further down. It is heavy for its size. It perfectly fits the palm of the hand, and its weight prevents it from turning when played.
This lovely old bowl is in excellent structural condition, free of stains and blemishes, and has a deep golden bronze colour and an aged patina.
A Tibetan silk brocade bowl cushion and a double-ended teak and suede ringer are included in the price.
Simply Fabulous!
{audio}lingam571.mp3{/audio}
Listen: (3 struck notes and a played note with a wooden ringer)