Stunning Museum Quality 10 ¼ " Antique Jambati Singing Bowl – Bb3 (235-236Hz)
---
---
Antique Jambati Singing Bowl. Note: Bb3 (Crown Chakra)
Weight 3 lb 5 oz. (1.5 kilos). Size 26 x 10.5 cm (10 ¼ x 4 inches)
Antique Jambati Singing Bowl. Note: Bb3 (Crown Chakra)
Weight 3 lb 5 oz. (1.5 kilos). Size 26 x 10.5 cm (10 ¼ x 4 inches)
This rare museum quality antique Jambati bowl is simply stunning with its unblemished graceful form and one of the finest grooved lips I have ever seen…triangulated, generously wide, with well-defined grooves that continue around the outer rim to form a decorative collar. Its finely beaten golden wall is sensually smooth with subtle surface variations above and below the decorative bands, and there are well-defined circles at its centre.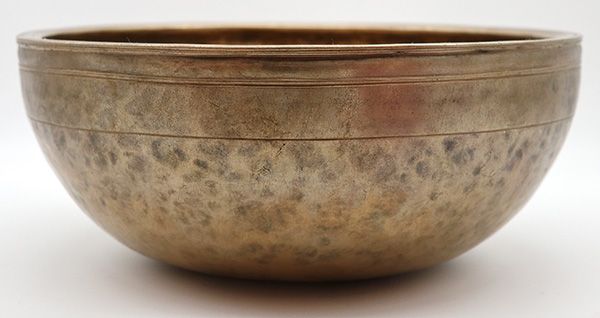 Its good looks are matched by a wonderful voice…a really lovely third octave Bb3 (235-236Hz) when struck with a padded mallet or played around the rim with a suede ringer. The rim note changes to a very high F5 (708Hz) with a wooden ringer.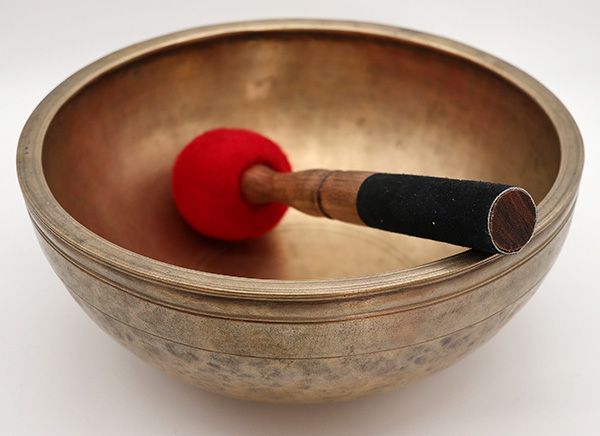 This antique Jambati has been expertly forged and is in superb museum quality condition.
It is undoubtedly one of the finest bowls to come into my possession in over 30 years of collecting, and would grace any collection.
A padded striker and a double-ended teak and suede ringer are included in the price.
{audio}jambati1-5.mp3{/audio}
Listen: (2 struck notes and 2 played notes, suede ringer then wood)