Superb Antique Lingam Singing Bowl – C4 (256Hz)
---
---
Antique Lingam Singing Bowl. C4 (256Hz) Root Chakra
Weight 2 lb 1 ¾ oz (956 grams). 18.5 x 9 cm (approx. 7 ¼ x 3 ½ inches)
Antique Lingam Singing Bowl. C4 (256Hz) Root Chakra
Weight 2 lb 1 ¾ oz (956 grams). 18.5 x 9 cm (approx. 7 ¼ x 3 ½ inches)
This rare antique Lingam Singing Bowl has a superb middle C voice (256Hz) when struck or played around the rim with a suede ringer but, since it occupies the mid point between B3 and C4, the note sometimes flickers between the two when metered. The rim note changes to an excellent F#5 if a wooden ringer is used. It is an extremely responsive and easy bowl to play, and it's voice is pure and hauntingly beautiful.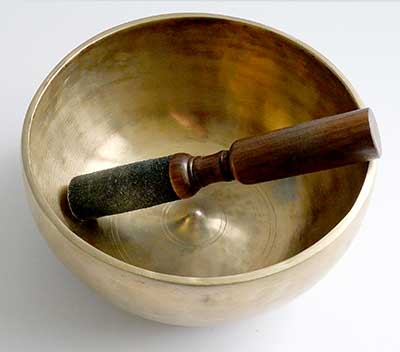 This 19th century bowl weighs almost 1 kilo and takes that classic Thadobati form and has a particularly gracefully curved profile. It has a beautiful lingam at its centre, surrounded by concentric circles, and a deep navel underneath. The lip is thick, level and smooth, with a decorative band of dots below the outer rim.
This bowl is in excellent structural condition, with clean smooth walls, and a lovely golden bronze colour. A Tibetan silk brocade bowl cushion and a double-ended teak and suede ringer are included in the price.
{audio}lingam956.mp3{/audio}
Listen: (2 struck notes and 1 played note)