Superb Antique Thadobati Singing Bowl – B3 (248Hz)
---
---
Antique Thadobati Singing Bowl
Weight: 1 lb 7 ¾ oz (672 grams). Size: 18.5 x 9.5 cm (7 ¼ x 3 ¾ inches) Crown Chakra
Antique Thadobati Singing Bowl
Weight: 1 lb 7 ¾ oz (672 grams). Size: 18.5 x 9.5 cm (7 ¼ x 3 ¾ inches) Crown Chakra
This is an archetypal antique Thadobati Singing Bowl with its high-sided gently curved wall, grooved lip, and wide flat bottom. It's an older bowl that has seen a lot of use resulting in the decorative circles at its centre being all but worn away with ritual cleaning, and its hammered walls now beautifully and sensually smooth to the touch. It is structurally sound, clean, and free of stains, and has a nice antique golden bronze colour.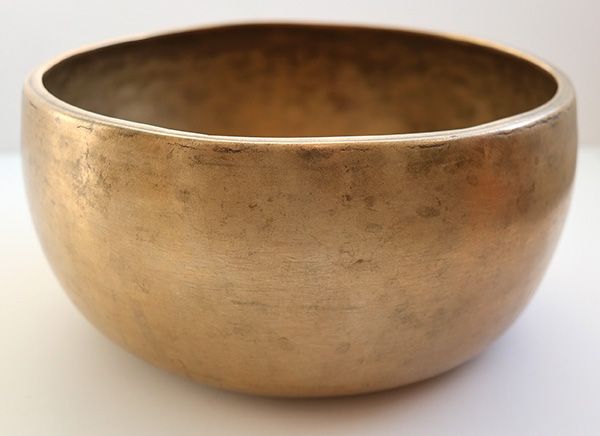 The fundamental note is a third octave B (248Hz) whether struck with a padded mallet or played around the rim with a suede ringer. A wooden ringer will produce a C4 and F#5 harmonic.
A Tibetan silk brocade cushion and a double-ended teak and suede ringer are included in the price.
Note: Audio clips coming soon.