Superb Antique Thadobati Singing Bowl – Perfect Pitch F3 (175Hz) – Inscription
---
---
Antique Thadobati Singing Bowl. Note: F3 (Heart Chakra)
Weight 2 lb 9 ¾ oz. (1.18 kilos). Size 20 x 9 cm (8 x 3 ½ inches)
Antique Thadobati Singing Bowl. Note: F3 (Heart Chakra)
Weight 2 lb 9 ¾ oz. (1.18 kilos). Size 20 x 9 cm (8 x 3 ½ inches)
This is a superb antique Thadobati Singing Bowl with a perfect pitch third octave F fundamental (175Hz) and a very nice engraved inscription. These are rarely seen on Thadobati bowls, and a fair indication of the high esteem in which a former keeper held this bowl. The note is the same when struck with a padded mallet or played around the rim with a suede ringer.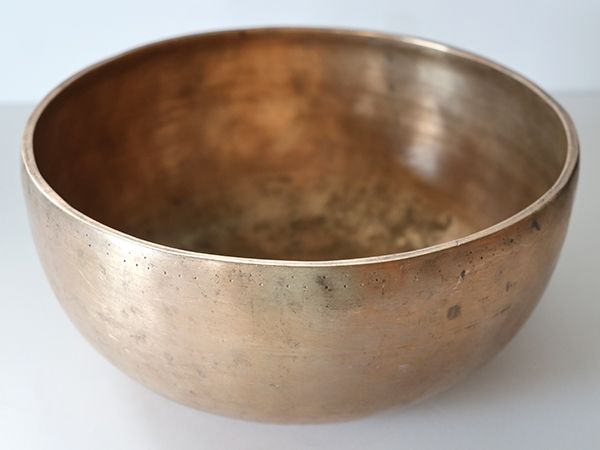 This high quality antique Thadobati bowl (circa 1800) has a grooved lip, circles at its centre, and decorative dots around the outer rim…plus the nice inscription.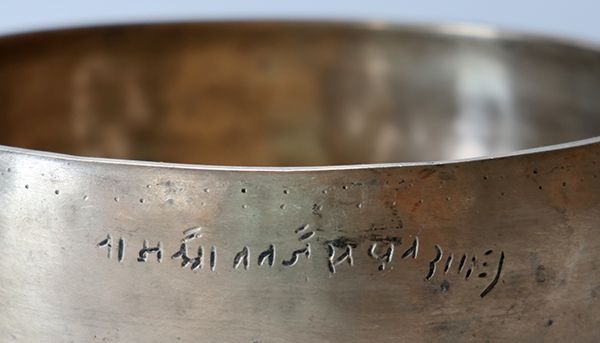 It is in excellent structural condition, with a nice golden bronze colour, and free of stains and blemishes.
A Tibetan silk brocade cushion and a ringer are included in the price.
An exceptionally nice example of this antique bowl form!
Note: Audio clips coming soon.