Superb Inscribed Antique Thadobati Singing and Fountain Bowl– Perfect Pitch Eb4 (311Hz)
---
---
Antique Thadobati Singing Bowl. Note: Eb4 (Solar Plexus Chakra)
Weight 1.18 kilos (2 lb 9 ¾ oz). Size 19 x 9 cm (7 ¾ x 3 ½ inches)
Antique Thadobati Singing Bowl. Note: Eb4 (Solar Plexus Chakra)
Weight 1.18 kilos (2 lb 9 ¾ oz). Size 19 x 9 cm (7 ¾ x 3 ½ inches)
This is a top quality antique Thadobati singing bowl with an excellent perfect pitch middle Eb4 fundamental (311Hz) when struck with a padded mallet or played around the rim. It will also readily produce vibrant fountains if played with a little water inside, and even has some talking ability.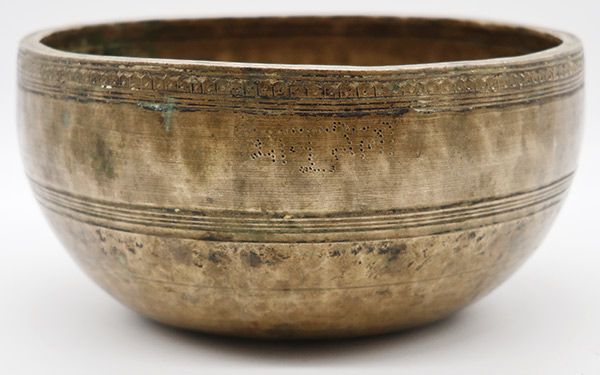 It is heavy for its size and has thick curved walls and a deeply grooved lip. There are circles at its centre, and an unusual and attractive decorative patterned border encircling the outer rim, and several deeply incised bands around its belly. It also benefits from a dot-punched inscription.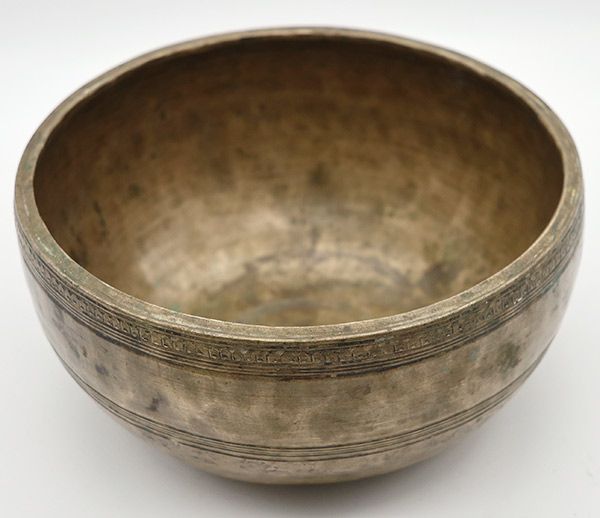 This bowl is in excellent structural condition and is basically clean but with some light staining inside. It has an attractive dark bronze colour and the look and feel of quality and age.
A Tibetan silk brocade bowl cushion and a teak and suede ringer are included in the price.
{audio}thado1-18.mp3{/audio}
Listen: (2 struck notes and a played note)