Superb Quality 19th Century Manipuri Singing Bowl – Concert Pitch G4 (391+Hz)
---
---
Antique Manipuri Singing Bowl. G4 (391Hz) & C#6 (1113Hz) Throat & Root Chakras
Weight 0 lb 15 oz. (455 grams). Size 15 x 5 cm (6 x 2 inches)
Antique Manipuri Singing Bowl. G4 (391Hz) & C#6 (1113Hz) Throat & Root Chakras
Weight 0 lb 15 oz. (455 grams). Size 15 x 5 cm (6 x 2 inches)
This superb quality small 19th century Manipuri Singing Bowl has a middle G concert pitch voice with a high sixth octave C# harmonic. It's a responsive bowl and easy to play.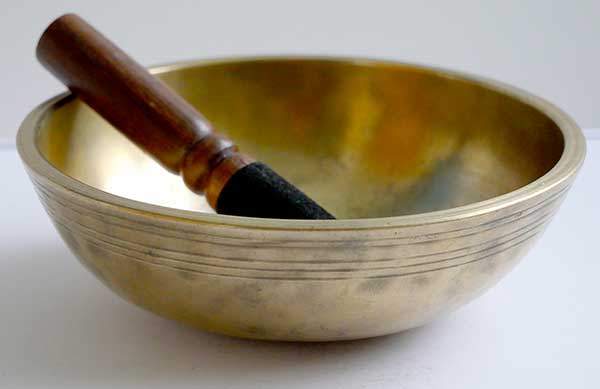 This bowl has been beautifully forged with walls that are thicker than normal and has a substantial grooved lip. There are concentric circles at its centre and attractive decorative bands surrounding the outer rim.
This lovely old bowl is a delight to look at, hold and play. It is in excellent structural condition, virtually free of stains and blemishes, and has a bright golden bronze colour.
A Tibetan silk brocade bowl cushion and a ringer are included in the price.
{audio}manipuri455g4.mp3{/audio}
Listen: (3 struck notes and 1 played note)