Superb Rare 18th/19th Century Carving of a Shaman Couple – Exceptional Condition
---
---
Antique Shaman Couple Carving, Nepal
Height 23.5 and 24 cm (9 ¼ and 9 ½ inches)
Antique Shaman Couple Carving, Nepal
Height 23.5 and 24 cm (9 ¼ and 9 ½ inches)
This wonderful pair of carvings representing a shaman couple are simply unique and among the finest art works in my private collection. Dating from the 18th or 19th century they are expertly carved and remarkable in their attention to shamanic detail. The shaman's nursing wife wears no less that 13 pieces of metal jewellery! They are in an exceptional state of preservation, and to judge from their smoky black colour and surface patina, were safely kept above the fireplace in the rafters of a shaman's house.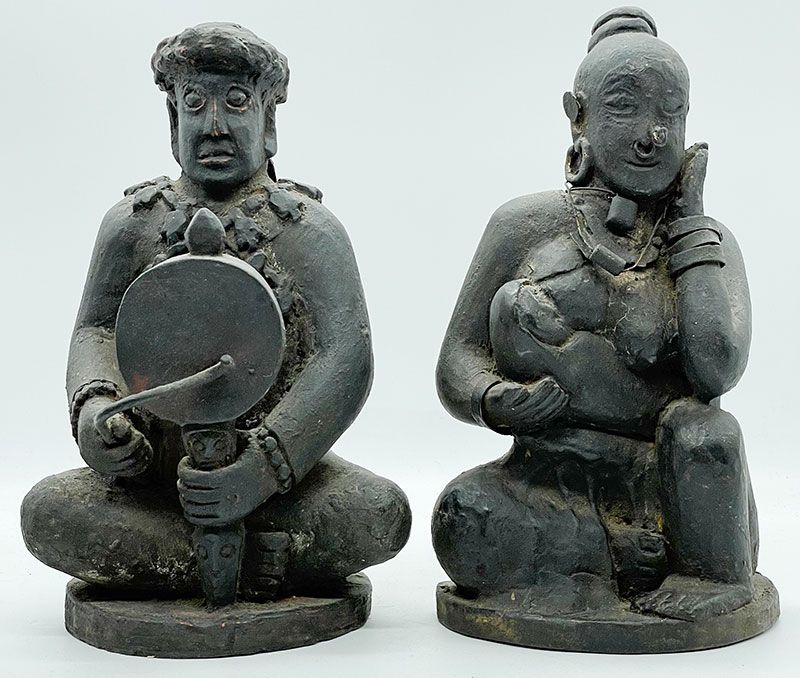 The Shaman: 23.5 x 14.5 cm (9 ¼ x 5 ¾ inches)
The shaman sits upright with legs crossed on a circular base. He is wearing a plaited headdress with long tassels that reach low down his back. The headdress might have been added separately and affixed with clay or some other substance. Its tassel is made from four flattened strips of tin or copper and stuck to the shaman's headdress and lower back, with a space inbetween.
He is wearing a jacket. Two shaman bell-chains are strung diagonally across his chest and back, with all the bells beautifully carved. There are carved bead bracelets around each wrist.
In his left hand he holds the phurba handle of a double-headed dhyangro (shaman drum). The drum's handle is true to life and portrays the head of a deity and the face of a makara. In his right hand he holds a curved drumstick fashioned from iron.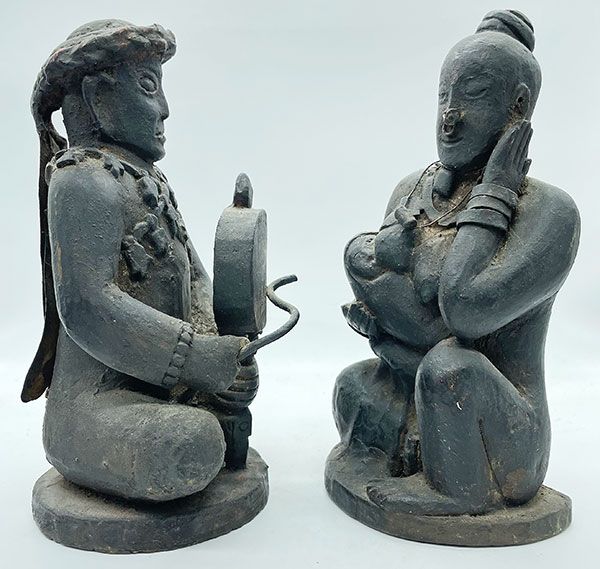 The Shaman's Nursing Wife: 24 x 13 cm (9 ½ x 5 inches)
The shaman's wife squats with one leg folded beneath her on a half circular base. Her breasts are exposed but she appears to be clothed below the waist. In her right arm she tenderly cradles a swaddled baby feeding at her right breast, while her left arm is bent double with the hand placed against her cheek. Her hair is tied up in a topknot. She is richly adorned with 13 pieces of metal jewellery.
She wears a metal stud and an earring in each ear (the stud is missing from her left ear). She wears a metal nose pin and nose ring. There are 3 metal bracelets around her left wrist and 1 around her right. There are 3 different metal amulets around her neck, two of which are held on by copper wire.
Authentic, fabulous, and very collectable!