Superb Rare Antique Lingam Singing Bowl – B3 (251Hz) – Inscription
---
---
Antique Lingam Singing Bowl. Note: B3 (Crown Chakra)
Weight 2 lb 3 oz. (992 grams). Size 18.5 x 9.5 cm (7 ¼ x 3 ¾ inches)
Antique Lingam Singing Bowl. Note: B3 (Crown Chakra)
Weight 2 lb 3 oz. (992 grams). Size 18.5 x 9.5 cm (7 ¼ x 3 ¾ inches)
This is a rare and superbly crafted Antique Lingam Singing Bowl with a nice third octave B fundamental (251Hz) when struck with a padded mallet or played around the rim with a suede ringer.
Everything about this 19th century lingam bowl is just right…its size to weight ratio, its proportions, the evenness of its wall and the thickness of its lip, down to the perfectly pointed lingam at its centre and the yoni or navel underneath. There are circles surrounding and defining the lingam, and a decorative band of dots encircle the outer rim. It also benefits from a rare inscription, a fair indication of the high esteem in which a former keeper held this bowl.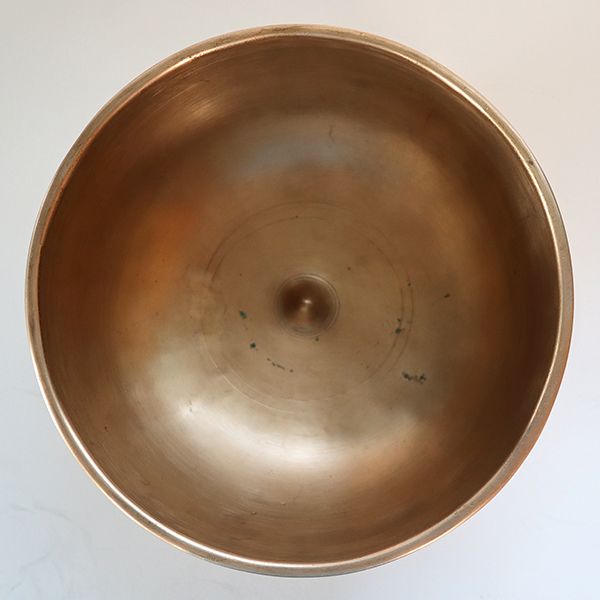 This lingam bowl is in excellent structural condition, free of stains and blemishes, and with a bright golden bronze colour.
A fabulous example of this ancient bowl form, and with a very fine B3 voice!
A Tibetan silk brocade bowl cushion and a double-ended teak and suede ringer are included in the price.
{audio}lingam99.1.mp3{/audio}
Listen: (2 struck notes and 1 played note with suede ringer)