Superior 10 ¾" Antique Jambati Singing & Fountain Bowl – Low G#2 with OM
---
---
Antique Jambati Singing & Fountain Bowl G#2 (105/6Hz) Throat Chakra
Weight 1.88 kilos (4lb 2 ¼ oz). Size 27.5 x 13 cm (approx. 10 ¾ x 5 inches)
Antique Jambati Singing & Fountain Bowl G#2 (105/6Hz) Throat Chakra
Weight 1.88 kilos (4lb 2 ¼ oz). Size 27.5 x 13 cm (approx. 10 ¾ x 5 inches)
The first thing you notice on picking up this bowl is how light it is for its size…an important factor when hand-holding and playing a large bowl for more than a few minutes. The second thing is how beautifully forged it is…with tiny hammer marks and fine even walls. And finally its sound…a low sonorous and vibrant second octave G# (105/6Hz) with a huge sustain that is close to perfect pitch and capable of producing the OM sound as well as spectacular fountains if played with a little water inside. This is indeed a superior and very desirable antique Jambati bowl!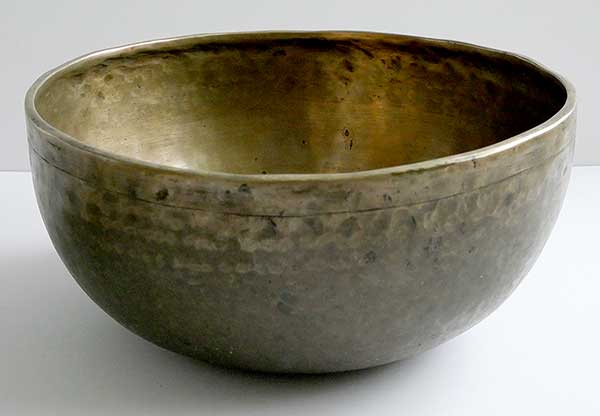 This bowl is in excellent structural condition. It is clean and free of stains and blemishes. It has a plain and simple lip, with a single incised line forming a decorative collar below the outer rim, and concentric circles at its centre. It has a dark antique gold colour with a little aged patina.
A padded striker, a Tibetan silk brocade bowl cushion and a ringer are all included in the price.
{audio}jambati1880g.mp3{/audio}
Listen: (2 struck notes and 1 played note)