Superior 10 ¼ inch Antique Jambati Singing Bowl B2 Concert Pitch
---
---
Antique Jambati Singing Bowl. B2 (Crown Chakra)
Weight 4 lb 2 ¾ oz. (1.89 kilos). 26 x 12.5 cm (approx. 10 ¼ x 5 inches)
Antique Jambati Singing Bowl. B2 (Crown Chakra)
Weight 4 lb 2 ¾ oz. (1.89 kilos). 26 x 12.5 cm (approx. 10 ¼ x 5 inches)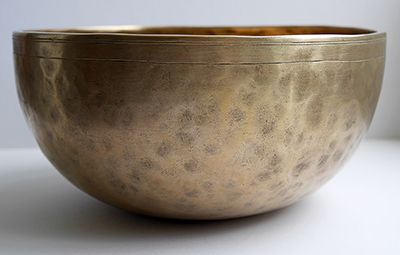 This is a superior quality antique Jambati singing bowl with a wonderful and virtually perfect concert pitch voice…a second octave B (124Hz). The note is the same whether struck with a padded mallet or played around the rim with a suede ringer. If greater pressure and speed are applied to the ringer when playing around the rim the F#4 second harmonic comes through, and it's possible to play the B2 and F#4 together in harmony, but press on and the F#4 will finally come to exquisite fullness and become the only sound you hear. The struck note has an unusually long sustain.
This 19th century bowl has been superbly forged and is heavy for its size, and is in excellent unblemished condition. The walls have attractive subtle hammer markings, with a simple decorative incised band below the rim, and at its centre there is a pair of circles. It has a lovely golden bronze colour.
A Tibetan silk brocade bowl cushion, a padded striker, and a double-ended teak and suede ringer are all included in the price.
A fabulous bowl!
{audio}jambati1890b2.mp3{/audio}
Listen: (1 struck note and 1 played note…plus a gale in background!)