Superior & Rare Antique Thadobati Singing/Talking/Fountain Bowl – A3 (215Hz)
---
---
Antique Thadobati Singing/Talking/Fountain Bowl. Note: A3 (Third Eye Chakra)
Weight 838 grams (1 lb 13 ½ oz). Size 18.5 x 9.5 cm (7 ¼ x 3 ¾ inches)
Antique Thadobati Singing/Talking/Fountain Bowl. Note: A3 (Third Eye Chakra)
Weight 838 grams (1 lb 13 ½ oz). Size 18.5 x 9.5 cm (7 ¼ x 3 ¾ inches)
This is a fine quality and versatile antique Thadobati Singing Bowl with excellent Fountain and talking abilities. The fundamental note is a third octave A (215Hz) when struck with a padded mallet or played around the rim with a suede ringer, although the rim note sometimes flickers between A3 and G#3 (212Hz). Unusually for a Thadobati bowl it will produce really splashy fountains when played with a little water inside, and even has some talking ability when struck and rocked back and forth.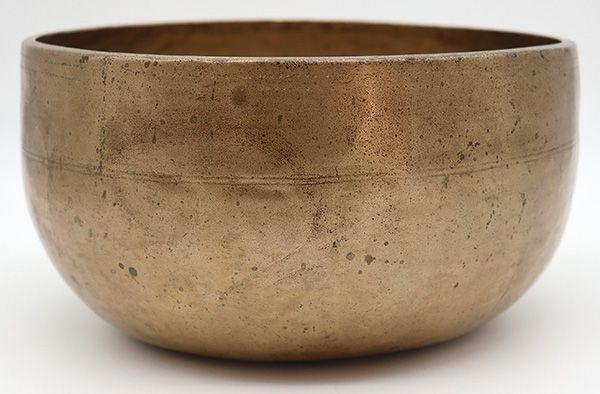 This nicely proportioned high-wall bowl has been well crafted and has thick even walls, a grooved lip, and well- defined circles at its centre. There are two bands of decorative dots encircling the outer rim, and a pair of parallel incised lines around the middle.
It is structurally sound and basically clean with some small patches of copper oxidization inside.
A double-ended teak and suede ringer is included in the price.
{audio}thado838.mp3{/audio}
Listen: (3 struck notes and 1 played note)