Superior Antique Lingam Singing Bowl – C#4 & G5 Concert Pitch
---
---
Antique Lingam Singing Bowl.   C#4 and G5 (Root & Throat Chakras)
Weight 2 lb 9 ¾ oz. (1.18 kilos).   20 x 9.5 cm (approx. 8 x 3 ¾ inches)
Antique Lingam Singing Bowl.   C#4 and G5 (Root & Throat Chakras)
Weight 2 lb 9 ¾ oz. (1.18 kilos).   20 x 9.5 cm (approx. 8 x 3 ¾ inches)
This is a large and rare superior quality antique Lingam Singing Bowl (circa 1800) with a lovely middle C# fundamental voice when struck with a padded mallet or played around the rim with a suede ringer.  However, if a wooden ringer is used the rim note is a fantastic fifth octave G (784Hz) that is perfect concert pitch.  It is extremely responsive and easy to play.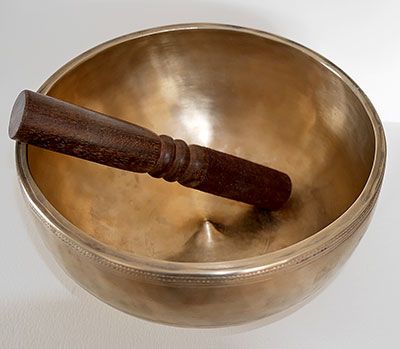 This bowl has great aesthetic appeal with its nice proportions and a pretty shape.  It has a beautiful golden colour and is in excellent and clean condition inside and out.
It has been superbly forged, with thick walls, a level grooved lip, a neat nipple-like lingam at its centre surrounded by a pair of concentric circles, and an attractive navel underneath.   There are several incised lines forming a decorative collar below the outer rim, and these have been enhanced by a tiny band of triangles encircling the top edge.  Finally, three more parallel lines decorate and define the midpoint of the outer wall.
A Tibetan silk brocade bowl cushion and a double-ended teak and suede ringer are included in the price.
A fabulous old bowl with 2 great voices, one of which is perfect concert pitch!
{audio}lingam1180cs4.mp3{/audio}
Listen: (2 struck notes and 2 played notes)