Superior Manipuri Singing Bowl With Patterned Border– E4 (325Hz)
---
---
Antique Manipuri Singing Bowl – E4 (184Hz) Solar Plexus Chakra
Weight 406 grams (0 lb 14¼ oz) Size 6¼ x 1¾ inches (15.5 x 4.5 cm)
Antique Manipuri Singing Bowl – E4 (184Hz) Solar Plexus Chakra
Weight 406 grams (0 lb 14¼ oz) Size 6¼ x 1¾ inches (15.5 x 4.5 cm)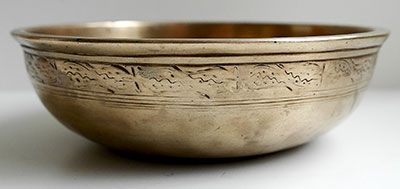 This is a superior quality antique Manipuri Singing Bowl with an unusual and extremely pretty engraved patterned border below the outer rim. It also features an excellent flared and boldly incised lip, and decorative circles inside and out.
This bowl feels perfectly balanced; nice in the hand, and is a delight to play. The fundamental note is an uncommon middle E (325Hz) when struck or played with a suede ringer, but a fifth octave Bb harmonic (930Hz) can be brought out if a wooden one is used. The E4 and the Bb5 will also sing together. This is a very responsive bowl and the quality of sound is excellent.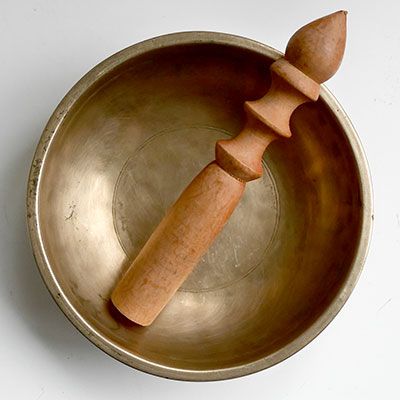 A Tibetan silk brocade bowl cushion and ringer are included in the price.
{audio}manipuri406e4.mp3{/audio}
Listen: (2 struck notes and 1 played note)