Superior Quality Medium Size 9" Antique Jambati Singing Bowl – Interesting Variable Eb3
---
---
Antique Jambati Singing Bowl. Notes: Eb3 & Bb4/5 (Solar Plexus & Crown Chakras)
Weight 1.06 kilos (2 lb 5 ¼ oz). Size 23 x 11.5 cm (9 x 4 ½ inches)
Antique Jambati Singing Bowl. Notes: Eb3 & Bb4/5 (Solar Plexus & Crown Chakras)
Weight 1.06 kilos (2 lb 5 ¼ oz). Size 23 x 11.5 cm (9 x 4 ½ inches)
This superior quality medium-size Antique Jambati Singing Bowl has walls that have been worn so smooth with use over time that it's hard to believe they were actually hand forged and beaten with hammers. It has a lovely shape and its fine walls are a sensual delight. It has a triangulated lip, circles at its centre, and decorative bands encircling the outer rim.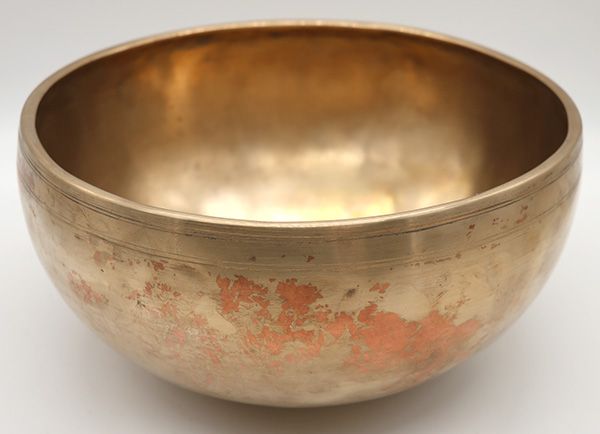 This bowl has an interesting third octave Eb3 fundamental that varies according to how hard it is struck with a padded mallet. A soft strike produces a 153Hz note, while a hard strike results in a 158Hz note. The rim note quickly moves from Eb3 to Bb4 (476Hz) when played with a suede ringer, while a wooden one will produce a fifth octave Bb5 (921Hz). It is a perfect size and weight for holding and playing for an extended period.
It is in good structural condition for its age, clean and free of stains, and has a beautiful golden bronze colour with very attractive patches of red copper showing through the outer wall.
A Tibetan silk brocade bowl cushion, padded striker, and a double-ended teak and suede ringer are included in the price.
{audio}jambati1-06.mp3{/audio}
Listen: (3 struck notes and 2 played notes, suede ringer then wood)