Superior Quality Rare 19th Century Lingam Singing Bowl – C4 & G5 – Inscription
---
---
Antique Lingam Singing Bowl. Notes: C4 & G5 (Root & Throat Chakras)
Weight 1.06 kilos (2 lb 5 oz). Size 20 x 9.5 cm (8 x 3 ¾ inches)
Antique Lingam Singing Bowl. Notes: C4 & G5 (Root & Throat Chakras)
Weight 1.06 kilos (2 lb 5 oz). Size 20 x 9.5 cm (8 x 3 ¾ inches)
This lovely, rare 19th century Lingam Singing Bowl has a relatively low profile and a gracefully inward-curving wall that carries an inscription. Inscriptions are very uncommon, and mainly found on older and superior quality bowls such as this, and are a fair indication of the high esteem in which a bowl was held by a former keeper.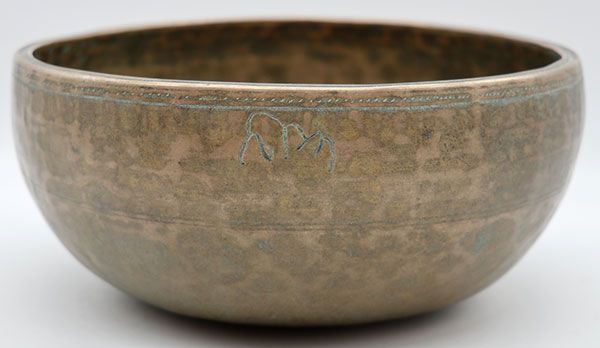 This antique singing bowl has two excellent voices and is very responsive and easy to play. The fundamental note is a C4 (263Hz) that is close to perfect pitch when struck with a padded mallet or played around the rim with a suede ringer. The rim note changes to a fifth octave G5 (766Hz) with a wooden ringer. The fundamental C4 and the G5 harmonic will also sing sweetly together.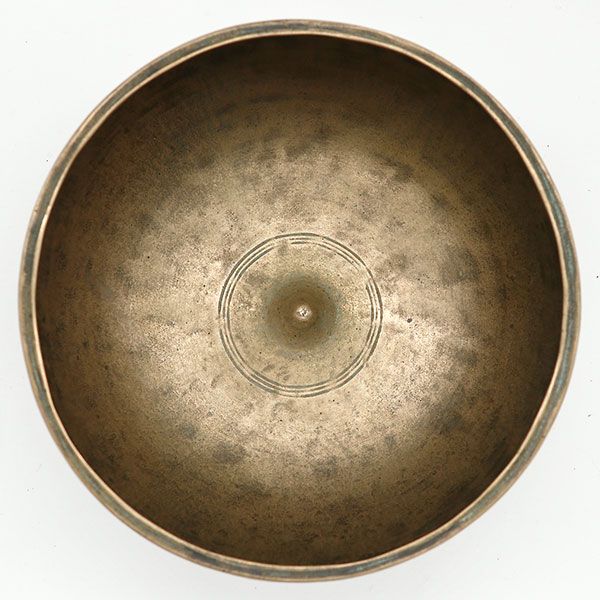 This superior quality antique bowl has a gracefully curved wall and a boldly grooved lip. There are decorative bands of tiny cuts immediately below the outer rim, below which are some decorative bands of incised lines, one high up and a pair around the middle of the belly. There is a large pointed lingam at its centre surrounded by 3 circles, and a deep matching navel or yoni underneath.
It is structurally sound and clean, with an aged patina. A very nice bowl indeed!
A Tibetan silk brocade bowl cushion and a ringer are included in the price.
{audio}lingam1-06c4.mp3{/audio}
Listen: (3 struck notes and 2 played notes, suede then wood)