Superior Quality Rare & Exceptionally Large 18th Century Lingam Singing Bowl – Bb3/B3
---
---
Antique Lingam Singing Bowl. Note: Bb3/B3 (Crown Chakra)
Weight 1.77 kilos (3 lb 14 ½ oz). Size 24 x 9.5 cm (9 ½ x 3 ¾ inches)
Antique Lingam Singing Bowl. Note: Bb3/B3 (Crown Chakra)
Weight 1.77 kilos (3 lb 14 ½ oz). Size 24 x 9.5 cm (9 ½ x 3 ¾ inches)
This is a rare and exceptionally large antique ceremonial Lingam Singing Bowl of superior quality dating from the 18th Century. It has been superbly crafted and has a beautifully proportioned and gracefully curved wall and triangulated lip. Decorative incised lines form a collar around the outer rim. The substantial pointed lingam at its centre is surrounded by two sets of concentric circles, and there is a neat centrally placed navel or yoni underneath.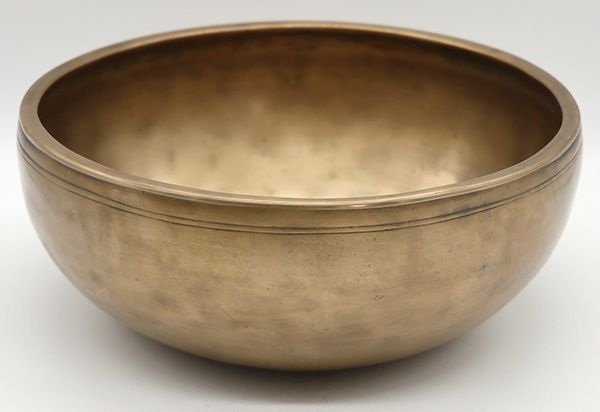 The excellent fundamental (238Hz-240Hz) note is midway between a third octave Bb3 and B3 and therefore flickers imperceptivity between the two. The struck and played notes are the same.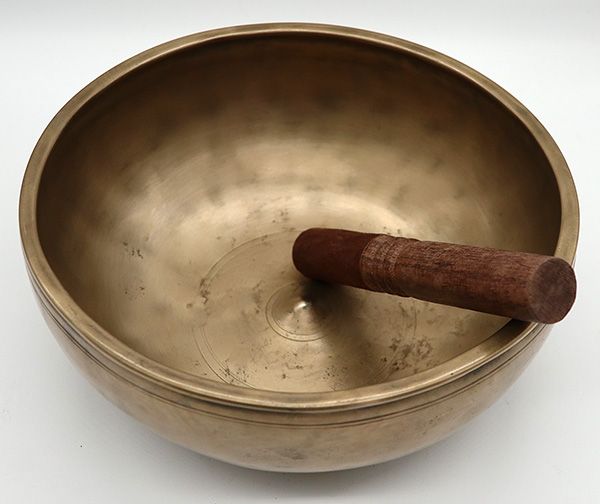 This rare and beautiful bowl is in superb structural condition, clean and stain-free. Its long service and ritual cleaning has resulted in a silky smooth surface inside and out, and it's hard to believe it was once hammered into shape. It is a delight to look at, hold and play, and has a very attractive golden bronze colour.
One of the largest and finest antique Lingams I have encountered!
A Tibetan silk brocade bowl cushion and a double-ended teak and suede ringer are included in the price.
Note: Audio clips coming soon.