Superior Quality Thick & Heavy Antique Lingam Singing Bowl – E4 – Self-Amplifying
---
---
Antique Lingam Singing Bowl. Note E4 (Solar Plexus Chakra)
Weight 983 grams (2 lb 3 oz). 16.5 x 9 cm (6 ½ x 3 ½ inches)
Antique Lingam Singing Bowl. Note E4 (Solar Plexus Chakra)
Weight 983 grams (2 lb 3 oz). 16.5 x 9 cm (6 ½ x 3 ½ inches)
This is a very beautiful superior quality 19th century Remuna-shaped Lingam Singing Bowl with thick walls and a grooved lip. There is a superb lingam surrounded by circles at its centre, matched by a perfect navel or yoni underneath. Two decorative bands of tiny cuts encircle the rim.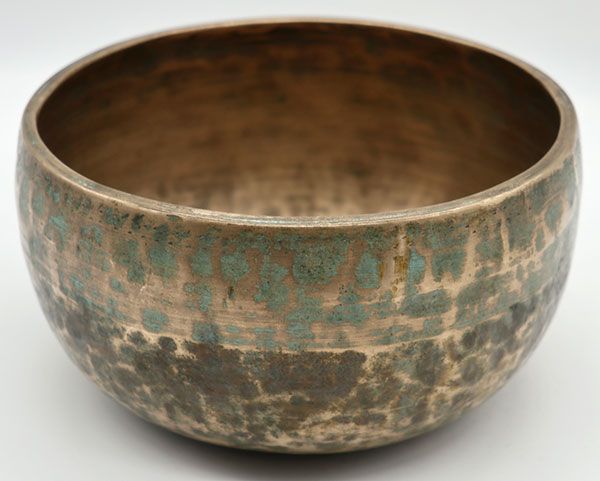 The exterior of this bowl is particularly attractive with the upper half having been polished to produce a smooth golden finish that contrasts with the more coarsely hammered and darker surface below.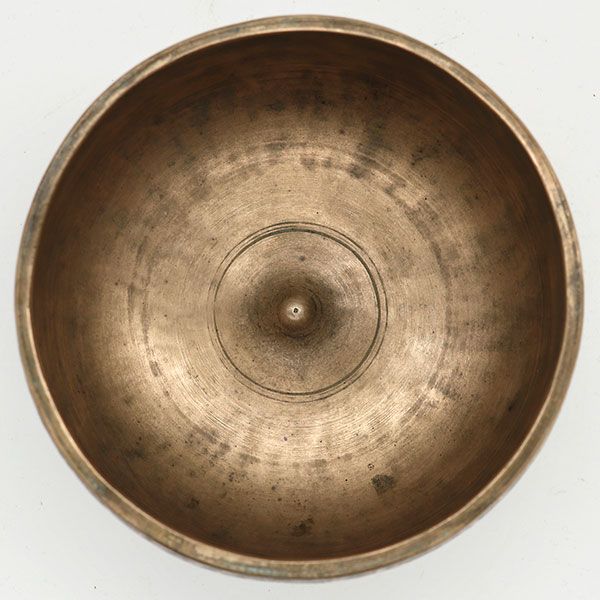 The fundamental note is a wonderful middle octave E4 (338Hz) with a decent sustain when struck with a padded mallet or played around the rim with a suede or wooden ringer. It is a very responsive bowl that appears to be self-amplifying.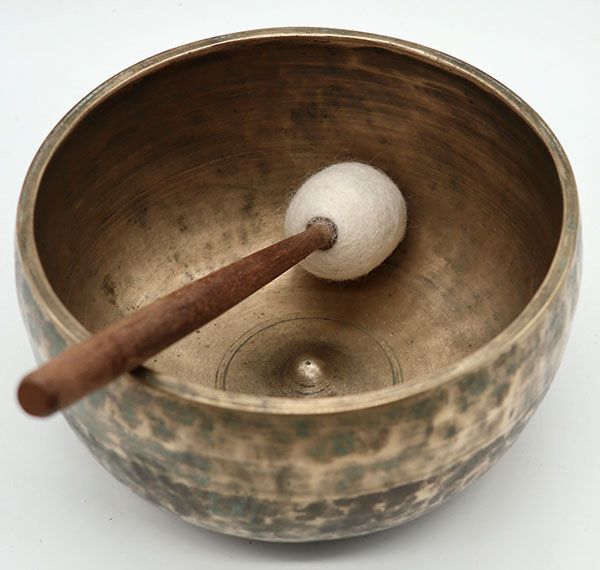 It is in excellent structural condition and free of stains and blemished.
This antique Lingam Singing Bowl is a delight to hold and play. It has great aesthetic appeal, a fabulous voice, and a strong physical presence. What more could you wish for?
A Tibetan silk brocade bowl cushion and a ringer are included in the price.
{audio}lingam983.mp3{/audio}
Listen: (3 struck notes and 2 played notes, suede ringer then wood)