Three Tiny Antique Naga Singing Bowls
---
---
3 Tiny Antique Naga Singing Bowls – C#6, F#6 and G#7 (Rim Notes)
3 Tiny Antique Naga Singing Bowls – C#6, F#6 and G#7 (Rim Notes)
It's very hard to come by really small antique singing bowls, and this group of 3 tiny Naga Bowls are extremely well matched for size, weight and character. All three sing well and are structurally sound and in nice condition for their age. Details as follows:
Bowl 1. Bb4 struck and C#6 played, 205g or 9¼ oz., 3¾ inch diameter.
Bowl 2. D5 struck and F#6 played, 175g or 6 ox., 3½ inch diameter.
Bowl 3. E5 struck and G#7 played, 206g or 9 oz., 3 ¾ inch diameter.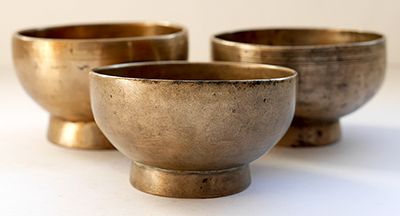 All 3 bowls are being sold together and a ringer is included in the price.