Top Quality Antique Naga/Pedestal Singing & Healing bowl – Superb B3 & F5 – Inscription
---
---
Antique Naga Singing Bowl. Note B3 & F5 (Crown & Heart Chakras)
Weight 996 grams (2 lb 3 oz). Size 19 x 13 cm (7 ½ x 5 inches)
Antique Naga Singing Bowl. Note B3 & F5 (Crown & Heart Chakras)
Weight 996 grams (2 lb 3 oz). Size 19 x 13 cm (7 ½ x 5 inches)
This is a top quality large antique Naga or Pedestal Singing Bowl with 2 fabulous voices…B3 (251Hz) when struck with a padded mallet or played around the rim with a suede ringer. The rim note changes to a powerful, penetrating, and almost perfect pitch fifth octave F (700Hz) with a wooden ringer. It's a very responsive bowl and easy to play.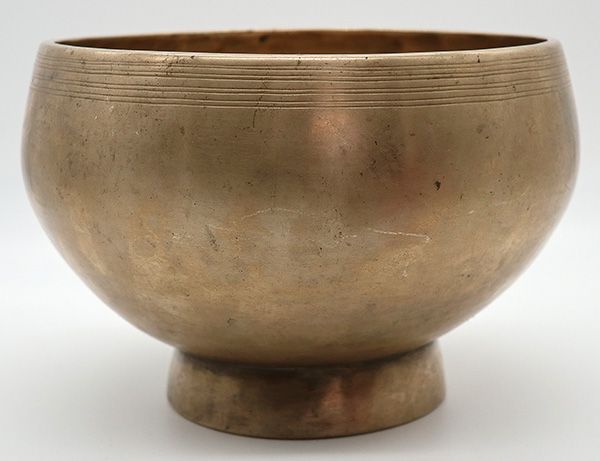 This antique bowl benefits from a long dot-punched inscription set between two lotus blossoms on the outer wall; a fair indication of the high esteem in which it was held by a former keeper.
It has the typical shape of this interesting and now quite rare bowl type, with a grooved lip and multiple decorative bands around the outer rim. It is in excellent structural condition, clean and stain-free.
A double-ended teak and suede ringer is included in the price.
{audio}naga996.mp3{/audio}
Listen: (3 struck notes and 2 played notes)