Ultra-Fine 7 ½" Antique Jambati Singing Bowl – G2/G#2, D4 & A5 Multi-Harmonic
---
---
Antique Jambati Singing Bowl. Notes G2/G#2 & D4 (Throat & Sacral Chakras)
Weight 452 grams (1 lb 0 oz). Size 19 x 8 cm (7 ½ x 3 inches)
Antique Jambati Singing Bowl. Notes G2/G#2 & D4 (Throat & Sacral Chakras)
Weight 452 grams (1 lb 0 oz). Size 19 x 8 cm (7 ½ x 3 inches)
This small antique Jambati Singing Bowl has the finest walls I have ever encountered in a singing bowl. This is the combined result of superb craftsmanship and untold years of ritual cleaning to the point where all decorative features have been worn away, leaving the walls perfectly smooth inside and out. It is also the lightest of bowls for its size.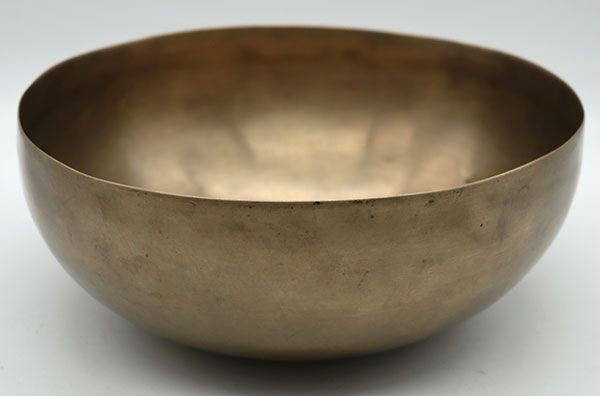 This is an interesting multi-harmonic bowl. It has a low second octave G2/G#2 (97-103Hz) fundamental when struck with a padded mallet, a middle D4 (291Hz) when played around the rim with a suede ringer, and a high fifth octave A5 (868Hz) with a wooden one.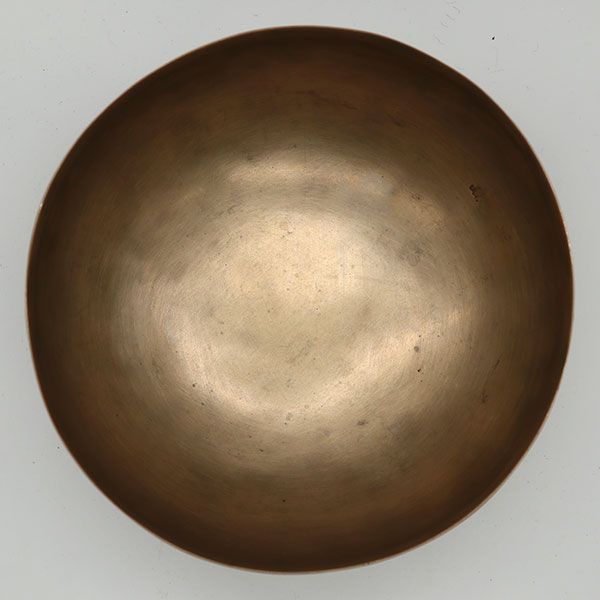 It is structurally perfect, and free of stains and blemishes, with a bright golden bronze colour.
A Tibetan silk brocade bowl cushion and a double-ended teak and suede ringer are included in the price.
Note: Audio clips coming soon.