Unique 18th Century Antique Singing Bowl – Perfect Pitch E3 Voice – Collectable
---
---
Antique Singing Bowl. Notes: E3 & Bb4 (Solar Plexus & Crown Chakras)
Weight 1.3 kilos (2 lb 14 oz). Size 22.5 x 9 cm (9 x 3 ½ inches)
Antique Singing Bowl. Notes: E3 & Bb4 (Solar Plexus & Crown Chakras)
Weight 1.3 kilos (2 lb 14 oz). Size 22.5 x 9 cm (9 x 3 ½ inches)
This fabulous antique Singing Bowl, believed to date from the 18th century, has a totally unique form and is the first of its kind I have come across in over 30 years of collecting. Apart from its unique shape it also features an unusual downward-sloping grooved lip, and an incised band encircling the inner wall.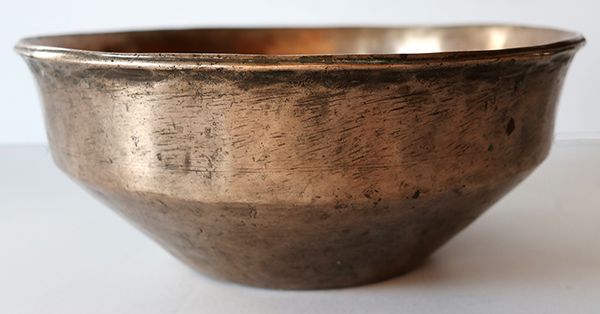 The fundamental note is a concert pitch third octave E (164Hz) when struck with a padded mallet, while the rim note is a nice middle Bb (469Hz) when played with a suede or wooden ringer.
This ancient bowl and collectable singing bowl has been superbly crafted and is in excellent structural condition with a fabulous aged patina. One of my personal favourites!
A Tibetan silk brocade cushion, a padded striker, and a double-ended teak and suede ringer are all included in the price.
{audio}uthado1.3e3.mp3{/audio}
Listen: (3 struck notes and 1 played note with suede ringer)