Unique Antique Shaman Singing & Divination Bowl – 3 Concert Pitch Notes – 2 Inscriptions
---
---
Antique Shaman Singing Bowl. Notes Bb3, E2 & F2 (Multiple Chakras)
Weight 1.32 kilos (2 lb 14 ¼ oz). Size 29 x 5.5 cm (11 ½ x 2 ¼ inches)
Antique Shaman Singing Bowl. Notes Bb3, E2 & F2 (Multiple Chakras)
Weight 1.32 kilos (2 lb 14 ¼ oz). Size 29 x 5.5 cm (11 ½ x 2 ¼ inches)
This large shallow antique singing bowl is simply unique! Not only is it one of the largest bowls of its type that I have come across in 30 years, it is the only bowl I have encountered with three virtually perfect pitch voices…the fundamental and two harmonics!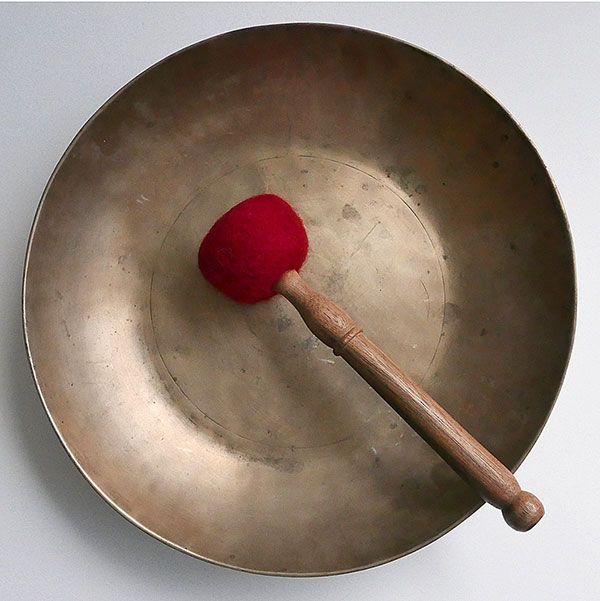 The fundamental struck note is (probably) the third octave A#/Bb (234Hz), accompanied by two perfect pitch second octave harmonics…E2 (83Hz) and F2 (87Hz). All three notes are simultaneously present, but can be separated by striking on different parts of the bowl's wall. The rim note is the same with a suede ringer but changes to a high fifth octave F (685Hz) with a wooden one. The sound of this bowl is very beautiful and quite unique…a haunting bell-like voice that brings to mind the sound of London's Big Ben. I love it!
I was unable to make this bowl play around the rim, but it might be possible with perseverance once a suitable ringer is found.
This antique bowl is of a type used by shaman for divination, as well as the preparation of medicinal herbs. holy water, and the display of mandalas on ritual or ceremonial occasions. It features two inscriptions one of which is a single character or symbol…a fair indication of the high esteem in which this bowl was held by a former keeper. There are decorative circles on the inside floor, but otherwise the bowl is quite plain. It has an honest simplicity.
The condition of this hand-forged antique bowl is excellent. It is clean and virtually free of stains and blemishes. It has the look and feel of antiquity and purpose. A Tibetan silk brocade bowl cushion and a ringer are included in the price.
This is a very rare, special, and utterly unique antique shaman bowl that would appeal to the serious practitioner and would grace any collection.
{audio}shaman1.32.mp3{/audio}
Listen: (4 struck notes and 2 played notes, suede then wood ringer)