Unique Antique Talking Lingam in 'As Found' Condition – F4 & Rare C6 – Ritual Gashes
---
---
Antique Lingam Singing Bowl. Note: F#3 (Heart Chakra)
Weight 455 grams (1 lb 0 oz). Size 14.5 x 6 cm (5 ¾ x 2 ¼ inches)
Antique Lingam Singing Bowl. Note: F#3 (Heart Chakra)
Weight 455 grams (1 lb 0 oz). Size 14.5 x 6 cm (5 ¾ x 2 ¼ inches)
The moment I set eyes on this characterful but grimy and tarnished lingam bowl I knew it was special…and you will too! It has the look of great antiquity and purpose. It feels sacred and functional. It feels like a power object, and one of a kind.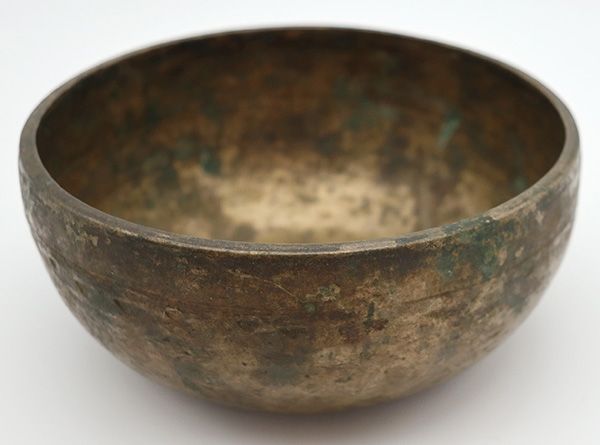 The fundamental struck note is a beautiful middle F (351Hz), while the rim note is an extremely rare and penetrating sixth octave C (1018Hz). However, when the bowl is partially filled with water and played around the rim, or struck and rocked back and forth, it reveals itself to be an incredible talking bowl capable of producing a range of strangely unearthly haunting sounds. Not only is this one of the best vocalizing bowls I have come across, it is virtually unique in being a lingam.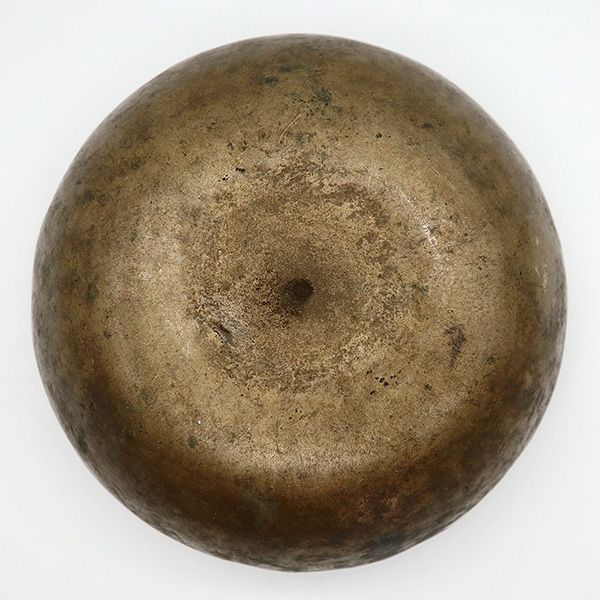 This small lingam fits comfortably in the palm of the hand. It has a particularly lovely form, and features a mounded lingam at its centre and a matching navel or yoni underneath. It has a grooved lip. There are circles surrounding the lingam and also, unusually, at intervals around the inner wall. These may be markers indicating water levels. Two incised bands form a decorative collar around the outer rim, below which are a series of deep ritual gashes of a type occasionally found on early singing bowls.
This wonderful antique lingam singing and talking bowl is structurally sound but supplied in its 'as found' tarnished condition, complete with the rich patina of grime acquired over a long life of handling and ritual service…and ultimately neglect. A buried treasure!
Sinply unique!
A Tibetan silk brocade bowl cushion, and a double-ended teak and suede ringer are included in the price.
{audio}lingam455.mp3{/audio}
Listen: (4 struck notes and 2 played notes, suede ringer then wood)