Unique Large Resting Bell / Singing Bowl – D#/Eb5 (620Hz)
---
---
Large Resting Bell / Singing Bowl. D#/Eb5 (620Hz) – Sacral Chakra
Weight 2.34 kilos (5 lb 2 ½ oz). Size 18.5 x 11.5 cm (7 ¼ x 4 ¼ inches)
Large Resting Bell / Singing Bowl. D#/Eb5 (620Hz) – Sacral Chakra
Weight 2.34 kilos (5 lb 2 ½ oz). Size 18.5 x 11.5 cm (7 ¼ x 4 ¼ inches)
Singing Bowls are sometimes described as resting bells, a term that I generally don't subscribe to, but this unique specimen really does seem to fit the bill. Not only is it rather bell-shaped, but it also sounds (rings) like a bell when struck on the rim with a wooden mallet, when the note produced is a powerful Eb5 (620Hz). It's possible to play this bowl around the rim, but in truth it is happiest when struck; when its bell-like voice sounds great.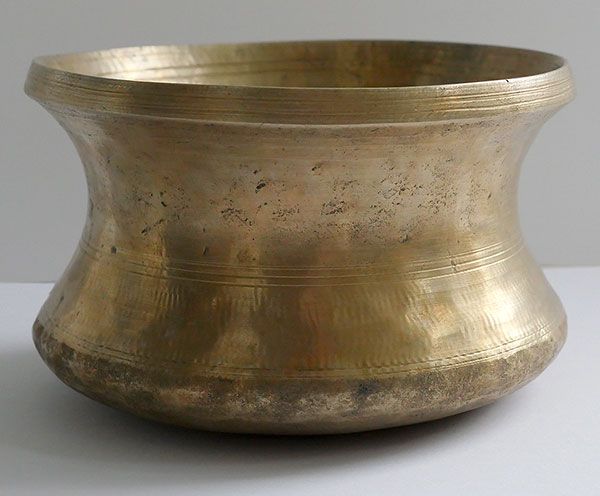 I have never seen a bowl quite like this in over 30 years of collecting…it is simply unique. It is incredibly thick and heavy for its size, and was probably cast in a mould and then beaten and tooled into shape on a lathe. It has a sloping grooved lip, circles at its centre, and decorative bands around its waist and below the inner rim. Its age is unknown but judging from its excellent clean condition I would assume 20th century. It has a very attractive rich golden colour.
A Tibetan silk brocade bowl cushion, a padded striker, and a ringer are all included in the price of this unique specimen.
Note: Audio clips coming soon.